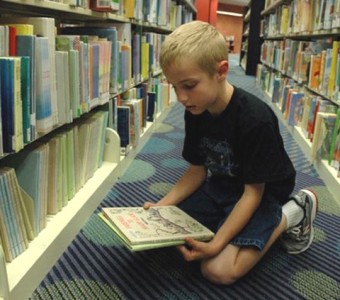 Lack of diversity in children's books, according to NIU study
Forty-five percent of children's picture books published in 2012 featured white as the primary culture, and 75 percent of the main characters were white, troubling stats that may lead young readers to feel undervalued, according to a Northern Illinois University scholar.
Melanie Koss, an associate professor in NIU's department of literacy and elementary education, said she believes this imbalance sends the wrong message to children, especially children of different races.
"The forty-five percent is out of all of the books, and not just the books with humans in them, so the number is actually quite higher when looking at just humans," the professor stated in an email to The College Fix. "When humans were represented, 75 percent of the main
characters were White."
"I'm not sure there is a specific desirable percentage, per se. In my perfect world, seeing diverse characters (including religion, sexuality, gender, disability, etc.) would be more common and more culturally specific, without the books being issue books – books focused on the diversity as the issue rather than the diversity just being a part of the story." (Pictured, Koss/NIU)
Koss' recent findings were reported in the latest Journal of Children's Literature.
Koss stated in a news release on her study that "children are more likely to read and value the importance of reading when they can see and connect to characters who are like them."
The lack of diverse children's books stems from the supposed dearth of profits from their production, coupled with the cultural composition of their authors, according to Koss.
After studying 455 children's picture books, Koss discovered 90 percent of the books' authors, and 83 percent of their illustrators, were white. Koss said she believes that all literature, even picture books for children, must be "working to enhance consciousness and comprehension of the nation's pluralistic fabric."
"People want to read about themselves," she stated in the release. "But if you never see yourself in a book, what does that tell you about how you are valued? You're not."
But some have pushed back against the idea of estimating one's value by one's ability to relate. English professors such as Adam Hooks of the University of Iowa have critiqued this notion of "relatability" as a desirable facet of literature.
Hooks commented: "'Relatable' is a sign of a failure to engage with the work or text, a failure to get beyond one's own concerns to confront the unfamiliar and the uncomfortable. In other words, the quest for the 'relatable' circumscribes the expansion of empathy that you can gain through exposure to new things. When the word 'relatable' really means 'relevant to me,' as it often does in the classroom, anything outside the purview of 'relatability' looks like it is not worth examining."
Beginning the quest for relatability at such a young age may have interesting consequences for high school and college students, as young adults must often read books that may not perfectly reflect their personal cultural composition, according to Hooks.
Meanwhile, those who call for diversity in children's books do not limit themselves to race.
The #WeNeedDiverseBooks grassroots campaign began as a reaction to a 2014 "BookCon" publishing panel event featuring four white male children's authors. This group expansively defines diversity in their mission statement as "including (but not limited to) LGBTQIA, people of color, gender diversity, people with disabilities, and ethnic, cultural, and religious minorities."
In 2014, Scholastic conducted a survey to study the primary reasons children are drawn to certain books.
The Kids and Family Reading Report concluded that the majority of kids, 70 percent, say they want books that "make me laugh," while 54 percent wanted books that "let me use my imagination," and 43 percent liked books that "have characters I wish I could be like because they're smart, strong or brave."
College Fix reporter Kate Hardiman is a student at the University of Notre Dame.
Like The College Fix on Facebook / Follow us on Twitter
IMAGES: Main, KOMUnews/Flickr; Inside, Koss/NIU, #WeNeedDiverseBooks