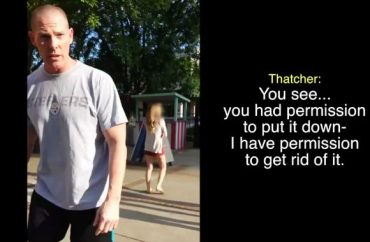 UPDATED
Mandatory First Amendment training, too
If you disagree with pro-life student activists, have a civil conversation with them. Especially if you're a professor at a public university.
Gregory Thatcher agreed to pay $17,000 to such students and their lawyers to settle a First and Fourteenth Amendment lawsuit against the Fresno State University public-health professor, who is legally a "government official."
Thatcher had sicced his class on the administration-authorized chalking by the Students for Life chapter this spring, falsely claiming the pro-life students could only chalk in a "free speech zone" eliminated years earlier, according to the suit filed by the Alliance Defending Freedom. He also joined in the de-chalking.
The California professor will pay $1,000 each to two student club leaders, Bernadette Tasy and Jesus Herrera, and $15,000 to the alliance for attorneys' fees, the alliance said Thursday. He'll also "undergo two hours of First Amendment training by ADF Center for Academic Freedom attorneys."
The stipulated injunction, approved by the U.S. District Court for the Eastern District of California Nov. 3, specifies that Thatcher is legally blocked from "interfering with, disrupting, defacing, or altering any future legal expressive activities" by the Students for Life chapter on campus.
He's also banned from "directing, prompting, or encouraging any other persons" to do the same.
The financial terms and mandatory training aren't mentioned in the stipulated injunction. Casey Mattox, director of the Center for Academic Freedom, told The College Fix in an email Thursday night that those terms "were all read into the record in open court last week at the settlement conference" Nov. 1, but the transcript has not been published yet.
Kristan Hawkins, president of Students for Life of America, issued a warning to "college officials everywhere" not to mess with students' chalking unless they want to pay to get out of litigation:
Nationwide, we are seeing incredible opposition to the pro-life speech of our student leaders and volunteers as they speak for the defenseless, reach out to pregnant women, and educate on the violence of abortion. But as this case illustrates, we are not going to be silent, even if it takes going to court.
Thatcher remains listed as faculty in the Department of Public Health.
Read the release and stipulated injunction.
UPDATE: Casey Mattox, director of Center for Academic Freedom, explained to The Fix after this story was published why the financial terms and mandatory training weren't mentioned in the injunction. The article has been amended accordingly.
MORE: Prof caught on video telling class to erase authorized pro-life chalking
IMAGE: Students for Life of America/YouTube
Like The College Fix on Facebook / Follow us on Twitter