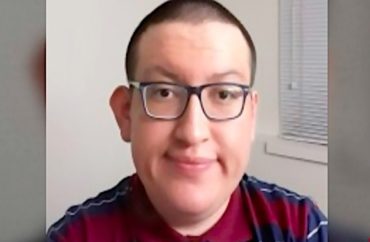 A recent University of Waterloo graduate stormed into a campus "gender issues" class on June 28 armed with two knives — and two students and the course professor ended up suffering injuries.
According to im print, law enforcement officials say Geovanny Villalba-Aleman's attack was "hate motivated" and "related to gender expression and gender identity."
Villalba-Aleman (pictured), who many on social media identified as being from Ecuador, entered the "Philosophy 202: Gender Issues" class Wednesday afternoon and his stabbings put the students and Professor Katy Fulfer in the hospital.
Fulfer was targeted first, then the students as they attempted to escape. Villalba-Aleman then attempted to blend into the crowd in the ensuing chaos as a "victim," but was identified by eyewitnesses.
Waterloo Regional Police Chief Mark Crowell said "The 2SLGBTQ+ community […] was targeted sort of broadly and at large here," according to CTV News.
According to the WRPS, they responded within three minutes of receiving the emergency call at 3:37 p.m. The suspect attacked the professor first, then two of the students who were escaping, and attempted an attack on a third student who was not physically injured. The suspect attempted to blend into the crowd as a victim, but due to eyewitness descriptions, was identified by police.

[…] Crowell said that the police do not believe the suspect coordinated with anybody else, but did believe the attack was planned. Crowell emphasized that the attack was not targeted towards the professor, but rather the subject matter of the class.

"We believe it was targeted sort of broadly and at large here, we don't believe that the individuals themselves were targeted for that purpose, but we believe that the class subject was of interest to the suspect and that was the origins of what transpired," Crowell said.

Crowell stated that WRPS is working with provincial and federal organizations to determine "what we're able to work [with] from a prosecution standpoint" and whether or not the crime can be categorized as a hate crime.
According to her personal website, Professor Fulfer is a "feminist philosopher and teacher" in the UW Gender & Social Justice program who "harness[es] philosophical tools and methods to identify, explain, and resist power inequalities in the world."
On Fulfer's university page, there is a message which says in part "We are horrified, saddened, and outraged by the attack on our campus community yesterday […] We stand in solidarity with the many teachers and scholars across the world whose ideas expose them to violence and hate. We are committed to continuing to teach and research topics in gender, social justice, and beyond."
The WRPS said Villalba-Aleman faces charges of aggravated assault, assault with a weapon and possession of a weapon for a dangerous purpose.
MORE: Transgender Portland State U. adjunct attacks pro-child activist
IMAGE: Linkedin screencap
Like The College Fix on Facebook / Follow us on Twitter