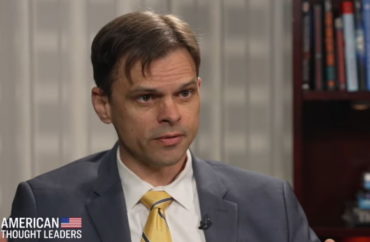 Former UC Irvine Professor Aaron Kheriaty remains active in public engagement for medical freedom
Former University of California Irvine Professor Aaron Kheriaty has lost his lawsuit fighting for a natural immunity exemption against the UC system vaccine mandates, however, the medical ethics scholar remains one of the most active voices against COVID mandates today.
Dr. Kheriaty taught moral courage to medical students for his bioethics class before the COVID-19 pandemic occurred.
Kheriaty had filed the lawsuit in August 2022 on behalf of himself and other individuals in the UC system who have natural immunity to COVID-19 due to previous infection of the coronavirus.
He argued in Kheriaty v. Drake that the mandate was a violation of his constitutional rights under the 14th Amendment and that individuals with natural immunity should not need to be forced to take the vaccine as they do not pose a threat to the community.
But the Ninth Circuit Court of Appeals court upheld a district court's ruling against the lawsuit in late November, the scholar wrote in his Substack.
"The judges … determined that I had not offered 'any appropriate historical example to establish a 'fundamental right' to be free from a vaccine mandate at a workplace.' In short, the federal courts have never delineated any prima facie limits to vaccine mandates instituted by public or private employers," he wrote.
USA: The Ninth Circuit Court of Appeals this week upheld the dismissal of a federal lawsuit brought by a former UC Irvine professor who lost his job after refusing to receive a COVID-19 vaccination.https://t.co/3jrXa63JZ4

— Luther (@LutherBurgsvik) November 25, 2022
Kheriaty added in his Substack he is currently hesitant to appeal his case to the Supreme Court due to the possible precedent it might set.
"If the highest court in the land upholds the 9th Circuit's ruling, that would set an even more authoritative (and bad) precedent that will be hard to overturn," he wrote. "Perhaps my case is not the best test case to articulate the necessary limits to the Jacobsen precedent. Perhaps the issue of limiting vaccine mandates is better dealt with through legislative means, after building sufficient popular and political support. I will continue to explore the various options."
Prior to the federal court's decisions, Kheriaty was suspended, and ultimately fired in December 2021.
The College Fix's recent attempts to reach Kheriaty via email and Linkedin went unanswered.
Kheriaty has become one of the nation's most outspoken critics of forced government mandates on private healthcare decisions even after the pandemic is over.
He said in a January interview with the Epoch Times, "It's precisely during crises, things like pandemics or natural disasters, that it's most important for us to maintain our core ethical principles … and why during those times it's especially important to hold fast to those principles. When we abandon core ethical and core legal principles disaster inevitably follows from that."
His interview with the Epoch Times was headlined: "Self-Spreading Vaccines, Transhumanist Ideology, and Government Gag Orders – The New Technocracy Threatening Hippocratic Medicine and the Nuremberg Code."
He continues to inform others and stays involved in raising awareness of the issue through his Substack "Human Flourishing." He is also author of the book "The New Abnormal: The Rise of the Biomedical Security State," published in November.
"The deadly and arrogant misrule of the biomedical security state must not become the 'new normal,'" the book's online description states.
He also serves as chief of medical ethics for The Unity Project, which works for medical freedom, and also runs an active Twitter account, weighing in on subjects including gain-of-function research, media bias, deep state issues, social media censorship and more.
In his Epoch Times interview, Kheriaty ends his talk with a message of encouragement: "I think there is a lot that ordinary people can do. People are not powerless – they were made to feel powerless during the pandemic but they're not, they're not powerless."
MORE: Emory University, which neighbors the CDC, ends COVID vaccine mandates
IMAGE: YouTube screenshot
Like The College Fix on Facebook / Follow us on Twitter