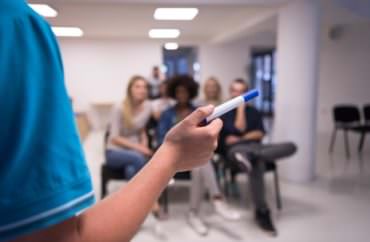 Professors attending a recent academic conference were advised to treat racial microaggressions in the classroom like actual assaults, according to attendees' tweets.
The advice was doled out at a panel workshop at the annual Association for Theatre in Higher Education conference, held in Las Vegas earlier this month.
The workshop at which the comments were made focused on ways to make theater for students of color a "safe space," according to the conference's program.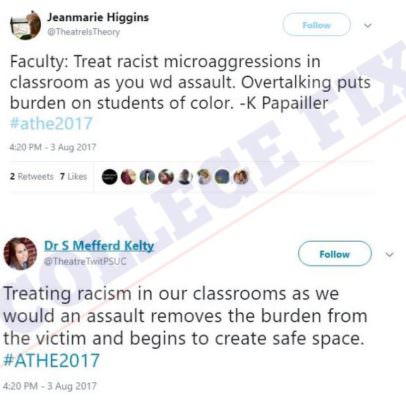 "A panel discussion exploring an adaption of the 'Safe Spaces' LQBTQ training model and applying it to faculty training for all theatre students of color," the program states.
"Treating racism in our classrooms as we would an assault removes the burden from the victim and begins to create safe space," one scholar in attendance, Professor Shawna Mefferd Kelty of SUNY Plattsburgh, tweeted out.
Another attendee, Penn State Professor Jeanmarie Higgins, also tweeted: "Faculty: Treat racist microaggressions in classroom as you wd assault. Overtalking puts burden on students of color. -K Papailler."
The comments are attributed to Iva-Kristi Papailler, listed in the program as a Georgia College educator. Papailler could not be located for comment by The College Fix. An email sent to her Georgia College address was rejected as undeliverable.
But Dr. Mefferd Kelty, in an email to The College Fix, put the comments in context:
The tweet was in reference to a session on creating safe spaces for theatre students of color. Specifically, it was a quote from one of the speakers and to clarify: If we as faculty treated victims of racism and micro-aggressions the way we would if someone were physically assaulted, we would then remove the burden from the victim. We don't ask someone who was punched in the gut whether or not it really happened. We don't ask victims of physical violence to have to justify their trauma. It wasn't a comment about retaliatory violence, it was about believing and supporting our students of color.
The Association for Theatre in Higher Education describes itself as a "comprehensive non-profit professional membership organization." Participants at the annual conference utilized the #ATHE2017 hashtag to share what they learned.
One speaker talked about her "feminist, antiracist approach to teaching musical theatre history." Another tweet stemming from the conference stated that "Game shows are white propaganda. Reflect what whites believe so they don't face world they've created."
The game show tweet was from Professor Gibson Cima of American University. He told The College Fix he was simply tweeting out arguments others made at the conference and the sentiments are not necessarily reflective of his personal opinion.
Chris Martin – Game shows are white propaganda. Reflect what whites believe so they don't face world they've created. #Athe2017 #athe17 pic.twitter.com/bYfhufOMmA

— Gibson Cima (@gibsoncima) August 6, 2017
"I am the Focus Group Representative for the Theory and Criticism Focus Group of the Association for Theatre in Higher Education. In my role as FGR, I maintain our web presence throughout the annual conference by tweeting the arguments of papers that are presented during our panels and roundtables," Cima said.
"If you check my feed, you will find many such tweets tracing the conversations being had by our members. The tweets that you mention do not reflect my personal opinions, rather they repeat the arguments advanced at an academic conference for the benefit of members attending and those in the wider field who were unable to attend," he added.
MORE: College socialists: We need more violence against Trump and his supporters to be effective
Like The College Fix on Facebook / Follow us on Twitter
IMAGE: Shutterstock