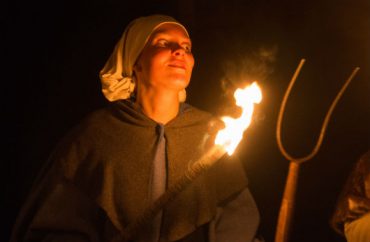 Look who's trying to get professors fired for expressing their views!
University of California-Berkeley Law Prof. John Yoo was speaking to the American Political Science Association yesterday when protesters disrupted a panel where he was speaking and held up signs demanding his firing, Inside Higher Ed reports.
Yoo served in President George W. Bush's Justice Department, authoring legal memoranda known as "torture memos" for their interpretation of the Geneva Convention with regard to prisoners held at Guantanamo Bay.
The protesters went beyond holding signs in the back of the room: Tweeted photos and video show they stood up throughout the room and turned their backs when Yoo spoke.
The IHE report doesn't identify the protesters, but one of the attendees said in a series of tweets they were political science professors. They are allegedly planning to protest Yoo again tonight.
Political science professors demand @UCBerkeley #FireJohnYoo and reject his participation at #APSA2017 @worldcantwait pic.twitter.com/oBpB6BE7kG

— Charlie vs Goliath (@CharlievGoliath) August 31, 2017
PoliSci professors turn their backs on John Yoo, denounce his presence at #APSA2017 @APSAtweets #FireJohnYoo @Jodi7768 @worldcantwait pic.twitter.com/OoNYwI0mTh

— Charlie vs Goliath (@CharlievGoliath) August 31, 2017
Another protest of Poli Sci Professors today against John Yoo at 4pm PT #APSA2017 in #SF @APSAtweets @ScottJaschik https://t.co/QfkQZSrJHG

— Charlie vs Goliath (@CharlievGoliath) September 1, 2017
APSA members already criticized the association for inviting Yoo to speak about "the future of the judiciary," according to IHE:
Corey Robin, a professor of political science at Brooklyn College and the Graduate Center of the City University of New York, posted an open letter with the title "When Political Scientists Legitimate Torturers." In the piece, he said Yoo should be viewed as responsible for torture.
APSA waved off the disruption of Yoo's panel. Executive Director Steven Rathgeb Smith said because they were "silent and respectful" as they stood up and blocked the view of the panel, "no action by APSA was necessary."
One of those cheering on the disruption and campaign to fire a professor for his views was none other than Drexel University's George Ciccariello-Maher, who has claimed his academic freedom was threatened when he was criticized for tweeting "All I Want for Christmas is White Genocide."
Torture proponent John Yoo currently getting the treatment at #APSA2017 pic.twitter.com/t91uOrn3yT

— George Ciccariello (@ciccmaher) August 31, 2017
Yoo himself was a good sport, telling IHE his professorial peers "didn't interfere with the panel presentations or the discussion. I couldn't think of a better way to educate people who need it about the Constitution!"
The professor has faced calls for his firing going back many years. Berkeley activists dressed up as mimes to demand his firing three years ago – while Yoo was still on sabbatical.
Read the story and follow Charlie vs Goliath for updates.
Like The College Fix on Facebook / Follow us on Twitter
IMAGE: Hans Splinter/Flickr