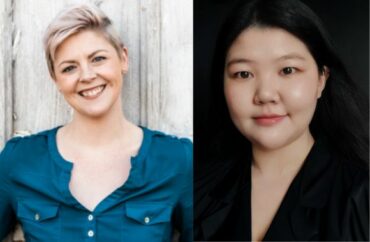 Academia must 'integrate feminist epistemologies into publishing practices' because 'open access is integral to the feminist movement'
The feminist movement needs the removal of paywalls on academic journals removed in order to succeed, two professors argued recently.
University of Kansas Professor Meggie Mapes and Sewanee: The University of the South Professor Teri Terigele made the argument in the latest edition of the Journal of Feminist Scholarship.
The professors in their paper "integrate feminist epistemologies into publishing practices to argue that open access is integral to the feminist movement." Terigele (pictured, right) is a psychology professor who "stresses equity and inclusion in the global society and concerns the media representations of marginalized and underserved communities," according to her faculty bio.
Mapes (pictured, left) is a communications professor whose courses have included "feminist theory." She also has presented on the topic of "privilege" and "inclusivity," according to her curriculum vitae.
These paywalls, Professors Mapes and Terigele assert, are partially responsible for restricting growth in the feminist movement.
In their article, "Criticizing Paywall Publishing, or Integrating Open Access into the Feminist Movement," the pair argue that paywalls restrict "accessible educational knowledge circulation."
Thus, paywalls focus academic knowledge towards a specific group (those who can afford to purchase the work) which then leads to "unequally empowered social groups."
"Closed systems rely on controlling information—a tactic to uphold power by gatekeeping knowledge from subordinated groups and placing a market value on scientific inquiry," the pair wrote.
Neither professor responded to two College Fix inquiries in the past month about any success they had in persuading journals to remove paywalls. The Fix also asked how else the cost for things like data serves, editors and marketing could be paid for without paywalls.
Mapes and Terigele explain in their article that most journal publishers are privatized, which allows them to make unusually high profit margins. For example, Elsevier, one of the top five academic journal publishing companies, has a profit margin approaching 40 percent, according to the academic paper.
MORE: New College looks to cut gender studies
Academic journal paywall publishing is unique to other online publishing such as magazines and news outlets, which must compensate their editors and writers, the professors wrote. In academic publishing, scholars are paid through their institutions, which then have to purchase back the work.
This issue has been raised previously by at least one major institution over a decade ago, showing that this situation remains a point of contention for academics and universities.
For example, in 2012, Harvard library revealed a yearly bill of $3.5 million. According to The Guardian, Harvard library put out a memo to its 2,100 teaching and research staff warning that the school was struggling to pay the bill.
Though many scholars access academic journals free of charge through their university's library database, libraries still pay millions of dollars for journal bundle subscriptions.
Robert Darnton, the director of the Ivy League's library, called on faculty to resign from paywalled journals and support open access publishing.
"I hope that other universities will take similar action. We all face the same paradox," he said at the time. "We faculty do the research, write the papers, referee papers by other researchers, serve on editorial boards, all of it for free … and then we buy back the results of our labor at outrageous prices."
The Fix reached out to the Harvard Library media team and inquired on how much the library is currently paying in fees but it did not respond.
MORE: Academic papers prove Charlie Kirk right about female doctors
IMAGES: University of Kansas; Sewanee: The University of the South
Like The College Fix on Facebook / Follow us on Twitter