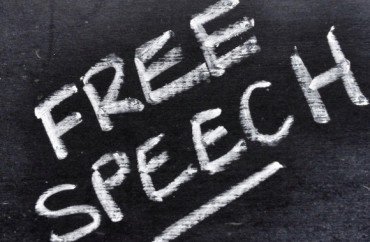 The American Association of University Professors has come out against legislation which protects free speech on college campuses.
But … why would an organization supposedly dedicated to "academic freedom for faculty members" be opposed to such measures? According to Forbes, the AAUP believes that state bills protecting speech are "merely a 'right-wing effort to disempower public higher education.'"
Via its project dubbed "One Faculty, One Resistance," the organization claims "dissent, critical inquiry, free speech, and free research . . . are under attack." Its website features a quote from "white genocide" professor George Ciccariello-Maher: "We are all a single outrage campaign away from having no rights at all."
The AAUP says the suppression of free speech comes about from the "litigious environment" that various state bills create.
AAUP is referring to bills "inspired by the Goldwater Institute," about which I have written here. The Goldwater model bill allows for lawsuits against universities by those who believe their First Amendment rights were violated on campus. Given that the U.S. Supreme Court has ruled consistently over the past half-century that public colleges and universities are as obligated by the First Amendment as any other government agencies, what could be wrong with allowing those denied this fundamental freedom a chance at their day in court?

According to AAUP, the cost of upholding the First Amendment "creates a litigious atmosphere that could cause administrators to suppress the voices of student protesters out of fear of being sued." Its evidence for this looming "litigious atmosphere"? "A recent student conference by the right-wing organization Turning Point USA," we are warned "sponsored a breakout session entitled "Suing Your School 101: Knowing and Defending the First Amendment on Campus."

Get it? If we give aggrieved parties their day in court, "right-wing organizations" might actually use the First Amendment to defend their rights. But equal First Amendment rights for conservatives will only "disempower public higher education." So, AAUP posits a binary choice: Either conservatives get equal rights or public education continues to be "empowered." But we can't have both. So, "empowerment" triumphs. Unless your opinions are deemed "right wing," in which case, you'll get neither empowerment nor free speech.
Jerome Woehrle at Liberty Unyielding notes the AAUP believes that "professor watch lists" and the recording of class lectures act as "constraints" on speech. In reality, such measures are exercises in free speech and the courts have consistently ruled that recording in public is a First Amendment right. Watch lists fall under that protection too, provided they contain no "overt threats."
The AAUP also fails to understand that public institutions must comply with First Amendment protections … they cannot "decide their [own] campus policy" on free expression.
Read the full Forbes and Liberty Unyielding articles.
MORE: AAUP endorses Occupy Wall Street
MORE: Prof is cool with watchlist: How can more free speech be a threat?
IMAGE: Shutterstock.com
Like The College Fix on Facebook / Follow us on Twitter