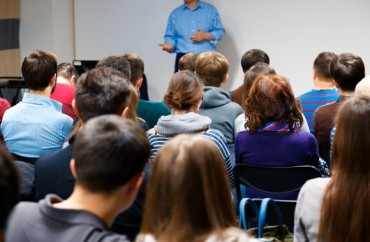 What happens to a professor who makes national headlines for bashing Republicans? In the case of two Michigan scholars, they keep teaching – and get pay raises.
Professor Susan Douglas of the University of Michigan, who famously wrote an op-ed titled "I hate Republicans," and Professor William Penn at Michigan State, who said Republicans "raped this country," continue to teach students and have enjoyed pay raises in recent years.
Penn, an award-winning English teacher, had made derogatory comments about Republicans during the first day of class in the fall of 2013. A student recording captured Penn saying: "If you go to the Republican convention in Florida, you see all of the old Republicans with the dead skin cells washing off them." He continued his tirade: "They are cheap. They don't want to pay taxes because they have already raped this country and gotten everything out of it they possibly could."
After the video made headlines, he was placed on paid leave. The following semester, he returned to the classroom.
Penn's salary was $145,800 in the 2011-2012 school year, according to MSU budget information cited by MLive.com. More recently, that compensation has grown. Michigan Capitol Confidential, which filed a freedom of information act request, reports that Penn earned $147,410 in 2013, $149,910 in 2014, and $152,310 in 2015.
Penn did not respond to a request for comment from The College Fix on how the controversy has affected his classroom lectures, if at all.
The College Fix also reached out to Michigan State's Provost and Executive Vice President for Academic Affairs June Pierce Youatt, who did not respond to a question about whether Penn's raises were merit-based or cost-of-living adjustments.
According to the university's website, merit-based raises at Michigan State are given to "build academic competitiveness at the college level."
As for Douglas, a professor of communication studies at the University of Michigan, she published an article in December 2014 in the political magazine In These Times. The professor's column starts with the striking sentence, "I hate republicans."
"I can't stand the thought of having to spend the next two years watching Mitch McConnell, John Boehner, Ted Cruz, Darrell Issa or any of the legions of other blowhards denying climate change, thwarting immigration reform or championing fetal 'personhood," the professor continued. "… So now we hate them back. And for good reason."
MORE: Prof Warns Ted Cruz-Teabaggers To Leave Class 
In response to public criticism of the article, the University of Michigan defended her by citing faculty "freedom of expression," noting it's "one of the core values" of the institution.
Douglas made $186,000 in 2014-2015 academic year, when the article came out. The following year, she was given a raise, and made $190,650, public records show.
Douglas did not respond to a request for comment from The College Fix on how the controversy has affected her relationship with students or teaching methods.
At UMich, "meritorious performance is the most important consideration in recommending individual increases," according the University of Michigan's latest salary program guidelines. "Different increase amounts should be determined on the basis of an evaluation of the performance of each faculty and staff member relative to the requirements of his or her position."
MORE: Harvard profs worked closely with campus race protesters
Like The College Fix on Facebook / Follow us on Twitter
IMAGE: Shutterstock