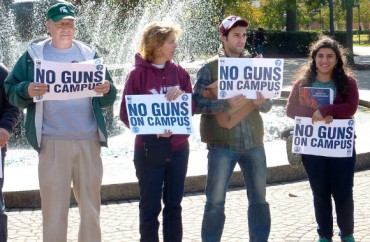 UPDATED
Kansas de facto expanded campus carry, resurrecting past criticism of campus carry
Kansas Democratic Governor Laura Kelly recently vetoed legislation that would allow 18-year-olds to conceal carry guns and said "more guns on campus is neither safe nor effective."
The legislature overrode the veto so almost all students can legally conceal carry on campus this upcoming semester. Eighteen-year-olds can conceal carry in the state generally — they were already allowed to open carry.
The concerns about safety on campus are similar to those made by Texas professors and academic associations in 2015 after the state expanded concealed carry on campus.
However, six year later, none of the opponents contacted by The College Fix seemed willing to examine their past concerns, nor would they provide any research showing violence on campus linked to the legislation.
None of those contacted would connect The Fix to someone who had self-censored out of fear of a debate in class with an armed student, a concern raised in 2015. Nor would they provide research on violence on college campuses related to concealed carry.
"We are swamped right now and are going to have to pass on this one. Our position remain[s] the same," said Gwendolyn Bradley with the American Association of University Professors in an email to The College Fix.
The AAUP had said in a joint letter with other academic groups that a "rigorous academic exchange of ideas may be chilled by the presence of weapons," in response to the Texas legislation.
Bradley would not provide any specific examples of violence from armed students in the past six years nor would it connect us to any professors who had seen discussion "chilled" in the classroom.
Other signers on the statement included the Association of American Colleges and Universities, the Association of Governing Boards of Universities and Colleges as well as the American Federation of Teachers.
David Tritelli, a spokesperson for the AACU, said he was "unable to assist" with The Fix inquiry because his organization "does not collect or track data related to such incidents."
The American Federation of Teachers and Association of Governing Boards of Universities and Colleges did not respond to The College Fix's inquiries for actual incidents of violence or silenced discussion.
Economist cited concerns about safety — but has never conducted research on guns
Economics Professor Daniel Hamermesh resigned from his position at University of Texas-Austin in 2015.
"With a huge group of students," Hamermesh said, "my perception is that the risk that a disgruntled student might bring a gun into the classroom and start shooting at me has been substantially enhanced by the concealed-carry law."
Hamermesh, a labor economist, has never published any work relating to guns. Most of his research and teaching revolves around the use of time, work productivity and unemployment, according to a review of his curriculum vitae.
Nor does he have any plans to do so or even investigate the accuracy of his predictions.
"I've not seen any examples on this–but I haven't looked/inquired," Hamermesh told The Fix when asked if he could point to any examples of students shooting inside a classroom.
"I have not and don't plan to do research," on crime after the institution of campus carry, the professor said. He confirmed he has never conducted research on guns in general, either.
"[T]he issue of risk of low-probability events always remains, whether such an event has yet to have happened," he said.
Departments opposed guns, too busy now to talk about it
Hamermesh's former department at UT-Austin could not respond either to requests for specific examples of crime.
Kevin Carney, an administrative manager for the economics department, said many of their professors were unavailable in a June 14 email, but said to try later in the month. Carney told The Fix on June 25 that he had shared the request, but did not specify with whom.
The College Fix tried to reach out to UT-Austin's History Department for comment on the Kansas bill, but did not receive a response.
The department said in 2015 that there was "no reasonable justification for permitting concealed guns to be taken into campus buildings" and said "the possible presence of guns will undermine our ability to teach."
"Students and faculty alike have told us that they will not be comfortable discussing controversial subjects if they think there might be a gun in the room," the 43 signers of the letter said.
Eilis Keely, an administrative assistant at UT-Austin, referred The Fix to two professors, both in the English Department, but only one of them responded. The English department letter is no longer viewable.
Mia Carter wrote in an email that she was busy and "not available for interviewing." She did provide a link to a number of interviews and statements she and a colleague, Professor Lisa Moore, had made in the past several years.
The pair, along with a third colleague, previously lost a lawsuit against the concealed carry law.
She told The Fix, however, that she was aware of the legislation being introduced in Kansas and that it "would be introduced elsewhere."
MORE: College student explains support for campus carry
"[Texas] is the engine for Second Amendment absolutism. The 'Constitutional Carry' bill from this year's [Texas] legislative session will also dreadfully bloom across the country," Carter told The College Fix.
Additionally, The College Fix could not find any conducted studies or research by professors in the three listed departments regarding violence and concealed carry incidents on college campuses. All the chairs signed onto their departmental letters in 2015.
History chair Daina Berry's personal website did not list any letters directly related to gun violence on college campuses. Nor has Jason Abrevaya, the economics chair, published research on the topic either, according to his Google Scholar page.
"It remains the position of the UT Economics department that guns should not be permitted in classrooms or in other campus buildings," Abrevaya told The Fix in a June 28 email after publication of the article. "The lack of an incident (accidental or otherwise) since the legislation does not mean that it won't happen in the future."
"Psychologists study the determinants of human behavior, including causes of, and responses to, violent behavior," the UT-Austin psychology department, led by Jennifer Beer, wrote in 2015. But Beer herself has not studied "violent behavior" related to guns, according to a review of her CV and publications.
Ellen Spiro, a professor in a communications department at UT-Austin, said that guns would "interfere with students' free speech in the classroom," in 2015. Spiro did not respond back to The Fix's email asking her if she had any evidence to back up her claim about campus carry legislation harming students' right to free speech.
Concealed carry group said there's been 'little to no harm'
"Campus carry has been legal on hundreds of colleges in a dozen states for years with little to no resulting harms," David Burnett, the public relations director for Students for Concealed Carry, told The Fix via email. "Colleges are uniquely vulnerable targets for criminals and mass shooters, and colleges have done nothing that would effectively prevent such tragedies."
The group supported the legislation in Texas.
Burnett said that the claims by gun control advocates that "lawfully-permitted carry" on college campuses will chill free speech rests on "the delusion" that states that "gun-free signs actually stop people from carrying on campus."
"We always encourage students to follow the laws and policies," Burnett said, "but if someone intends to harm a professor or classmate over a difference of opinion, it staggers the imagination to assume a no-guns-allowed sticker will thwart their crimes."
MORE: No increase in violence following campus carry legalization
Editor's note: The article has been updated with a comment from Professor Abrevaya.
IMAGE: Michael Tefft/ flickr
Like The College Fix on Facebook / Follow us on Twitter