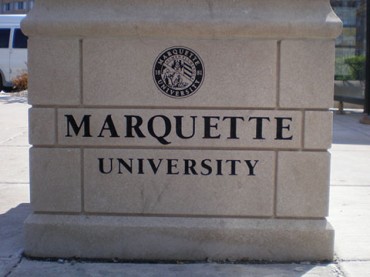 John McAdams, the Marquette University professor whose tenure is being threatened because he criticized a colleague in a blog post for silencing a student's views against gay marriage, could be one step closer to getting fired today.
A committee of his peers will help decide whether his academic freedom is protected or ignored in the interest of protecting people from offense.
Watchdog.org reports that the Faculty Hearing Committee, which serves an advisory role to the administration, is meeting today to decide whether to recommend McAdams' tenure be stripped.
McAdams says the committee is biased against him:
"There are two people on the hearing committee who shouldn't be there," McAdams said. "In one case, it's a communications professor who signed a letter condemning me. In other words, she's already made up her mind. In another case, a former provost I've blogged about and have been critical of clearly has skin in the game. Will they recuse?"
He's promised to sue the university if the committee recommends he lose tenure and Marquette uses that to fire him:
McAdams also claims the Milwaukee private university has concealed "a fair amount" of evidence from his lawyers, failing to comply with its own statutes on the production of evidence.
He remains on paid suspension and barred from campus, a condition usually reserved for threats to campus safety.
The Foundation for Individual Rights in Education notes that McAdams has not been accused of violating any campus policy.
Rather, he allegedly failed to show "personal and professional excellence" via his blog post, and "should have known" that the colleague whom he named would receive "vulgar, vile, and threatening communications" from other people:
If Marquette succeeds in terminating McAdams, the precedent set for the remaining tenured faculty will be ripe for abuse by administrators who disapprove of a professor's viewpoints or manner of communicating. Indeed, McAdams' longstanding suspension may well already have faculty hesitating before writing a blog post, op-ed, or Facebook comment.
Read the Watchdog.org story and FIRE post.
Like The College Fix on Facebook / Follow us on Twitter
IMAGE: Dave Reid/Flickr