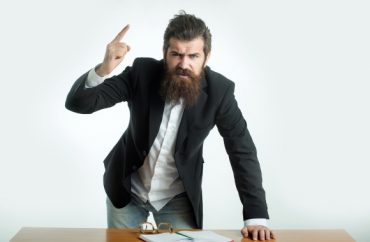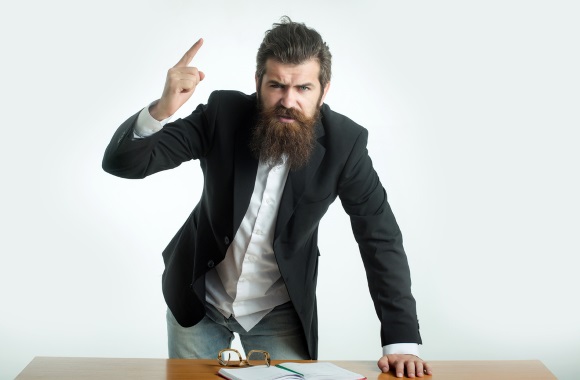 The burden is on the school to show recording is disruptive
With increased scrutiny on students using technology to document what happens in the classroom and on school property, a federal judge has recognized broad rights for students to make recordings on school grounds.
If other judges agree with the logic of the order, which pertains to a Maine middle school, college students will have the green light to legally record their professors' political comments in the classroom, a First Amendment expert told The College Fix.
The case, Pollack v. Regional School Unit 75, involves two parents who sued their school district because it wouldn't let their autistic son bring an audio recording device to school. They wanted to find out why the 18-year-old, who has "very limited expressive" abilities, came back from school crying and bruised.
The parents cited a 2011 precedent from the 1st U.S. Circuit Court of Appeals, Glik v. Cunniffe, that affirms a person's right to record public officials who are working in public, including police making an arrest.
Like a person who records police to expose the excessive use of force, the son's parents wanted to "expose wrongdoing" against him in class. (The 1st Circuit's precedents are binding on the Maine district court.)
MORE: Professor tells students: Trump's election an 'act of terrorism' (VIDEO)
District Judge Nancy Torresen instead chose an older, narrower and more familiar precedent that governs the First Amendment rights of students in a public school setting.
Under the Vietnam war-era Tinker standard, a school cannot stifle the speech of students unless the speech creates a "substantial disruption or material interference with school activities."
Tinker "takes into account the unique features of the school environment and it allows schools to restrict expression—even based on viewpoint—where the schools can forecast substantial disruption of or material interference with school activities or collision with the rights of other students," Torreson wrote.
The school district tried to argue that the recording device did infringe on student activities and privacy, and it didn't even bother addressing Tinker in its first motion to dismiss the case.
When the parents cited Tinker as their second choice, the school district responded that "Tinker does not apply because the privately-owned electronic device policy is content-neutral, and Tinker is limited to cases involving content and viewpoint-based restrictions on speech," Torreson summarized.
The judge told the school district it must reconsider the parents' request under the Tinker standard.
"Even if I bought the District's argument that the policy is content-neutral, the Plaintiffs have also alleged that the District has applied its policy to [the student] in a viewpoint-based manner" because officials feared the scrutiny from being recorded, and they had earlier allowed the autistic student to wear a GPS device, Torreson wrote.
Federal judge says students have the right to record at school unless officials can show it's disruptive by The College Fix on Scribd
The new danger: Waive your right to record or get out?
While seemingly unrelated to the rights of student journalists, the implications of this order could extend to "newsgathering" by students, Student Press Law Center Executive Director Frank LoMonte wrote in a blog post.
LoMonte told The Fix in an email the judge's order could be a "really interesting opening" for student journalists in both secondary and postsecondary institutions.
It is a "very logical application" of Tinker "to apply to gathering news as well as publishing news," he said: "That makes perfect sense since gathering information is a necessary prerequisite to sharing it, but it's rare that a court has been asked to rule on the right to gather information in the school setting."
The Fix asked LoMonte how the order could affect a situation like what happened at Orange Coast College, where a student was suspended for recording his psychology professor ranting about Donald Trump's election as an "act of terrorism."
LoMonte said "if the Pollack case becomes accepted as the standard, you will see students successfully asserting a First Amendment right to record in the college classroom as well."
MORE: Student who recorded prof's anti-Trump rant suspended
But he was less sanguine about whether that First Amendment defense by students would hold up as consistently in a college classroom, as opposed to a public school where children's presence is required by law.
"The college classroom is arguably a little different because taking any particular class is optional – nobody's compelled to be there – so if a professor were to say that waiving the right to record is a required prerequisite to taking the class, it might hold up," LoMonte said.
Orange Coast College's trustees withdrew the sanction in response to a public backlash, but the professor was not disciplined for using class time inappropriately or "bullying" students who support Trump, as the student's lawyer (below) argued she had done.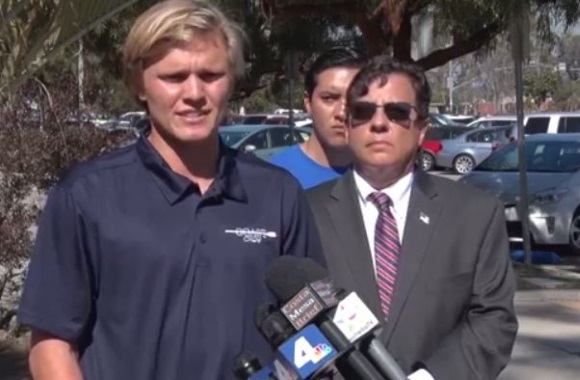 Torreson's order could be quite useful for students trying to demonstrate wrongdoing by officials, LoMonte wrote in his blog post, citing a student who recorded another student being slammed to the ground by a police officer in a South Carolina high school.
"The student who shot that nationally publicized video was threatened with serious disciplinary charges – charges that, under the Pollack ruling, would be subject to challenge on First Amendment grounds." LoMonte wrote.
Regional School Unit 75 did not respond to a Fix email query Wednesday, and its voice mailbox was full.
MORE: College rescinds suspension of student who recorded anti-Trump rant
Like The College Fix on Facebook / Follow us on Twitter
IMAGE: Shutterstock