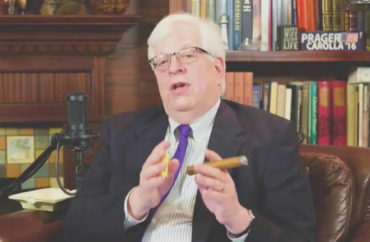 'Dennis Prager promotes deeply bigoted views using disturbing, apocalyptic language'
Conservative radio host Dennis Prager has a busy schedule: He also oversees the educational nonprofit PragerU and is making a documentary about campus speech with the more rough-hewn comedian Adam Carolla of Man Show and podcast fame.
Somehow he also fits in conducting orchestras in the Los Angeles area, which you wouldn't think is an especially political endeavor.
Until a couple professors at UCLA decided to bring the regressive left from the classroom to the symphony.
Prager writes in The Daily Signal that he conducts in part to raise money for local orchestras and to educate audiences about how orchestras work from the inside.
No one batted an eye until Prager was invited to conduct Aug. 16 in the Walt Disney Concert Hall, "one of the pre-eminent concert halls of the world."
This was too much for a few members of the Santa Monica Symphony Orchestra that he was scheduled to conduct, including political science professor Michael Chwe and history professor Andrew Apter.
They distributed a letter dated March 27 saying Prager's views are "fundamentally at odds with our community's values" and the orchestra would suffer from any association with him:
Dennis Prager promotes deeply bigoted views using disturbing, apocalyptic language. …

Our community includes many LGBTQ folks as well as children adopted by same-sex couples. Would they feel welcome to a concert conducted by Dennis Prager? …

Our orchestra participates yearly in a Martin Luther King Day concert which celebrates multiculturalism and all of the diverse ethnic identities in our community. According to Prager, we are thereby hastening the end of the United States.

Prager supports the current administration's proposed travel ban from several majority-Muslim countries … Our orchestra contains members of communities who have been personally and deeply disrupted by the travel ban, and it is shocking that we would welcome an unabashed advocate of this ban to lead our orchestra.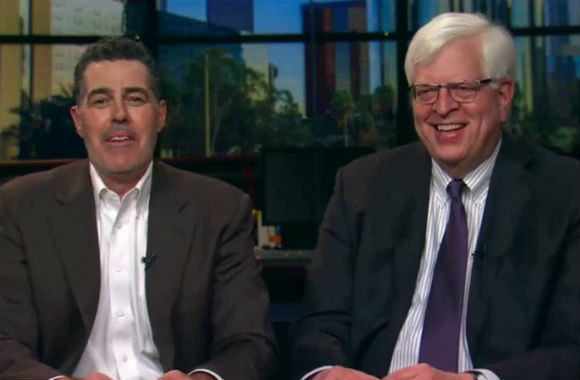 Because Prager has said "Leftism is a terminal cancer in the American bloodstream and soul," he has really called people who hold those views a cancer as well, the letter said: "It is astonishing that we are asking a person capable of such coarseness of language to lead us in an artistic endeavor."
Chwe included his email address in the publicly posted letter. While it's signed by four members of the orchestra, the non-professors only signed it in July, after which it was posted on the classical music blog Slipped Disc.
The letter has now been endorsed by Santa Monica's mayor and two councilmembers. A professor emeritus at UC-Riverside also threatened to never attend a Santa Monica Symphony performance again if Prager conducts.
Stick it to the 'illiberal left' by coming to the performance
Prager noted alternately that City Manager Rick Cole has defended the symphony's invitation because "it appears that Dennis Prager supports the arts," and Santa Monica has no role in "what music is played or who plays it."
The radio host credited the orchestra's board of directors for ignoring the disinvitation pressure, but the shame campaign continued anyway, all because he argues that children are better off adopted by opposite-sex married families and that "ethics are subjective" without belief in God:
These are the types of academics who are giving universities their reputation for illiberal closed-mindedness—which not only ruins the universities as educational institutions but also hurts them financially.

The New York Times recently published an article on how many alumni are no longer donating money to the colleges they attended because of the war on diverse thought on their campuses. [Our post: College alumni show displeasure with campus political correctness by withholding donations]

Now they want to do to orchestras what they have done to universities.
Prager invited readers to attend his performance to "reward" the board of directors and conductor "for their moral courage," strike a blow against "the illiberal left" and, of course, enjoy an evening of music in a world-class concert hall.
Slipped Disc founder Norman Lebrecht responded Tuesday to Prager's column by saying he's not qualified to conduct – apparently rejecting the professional judgment of the several orchestras that have invited him:
Prager is not a trained musician, let alone a conductor. He claims to 'have studied classical music since high school, when I first began playing piano and studying orchestral scores', but that does not qualify him to stand in front of a group of highly-trained professionals and expect them to do as he directs.

The issue, as we see it, is not his politics but his fitness to practice.
Of course, that's not why Professors Chwe and Apter led a crusade against this devout Jew who simply advocates what tens of millions of Americans do – at least those who aren't at risk of ruined academic careers.
Read Prager's column, the disinvitation letter and Lebrecht's response.
Like The College Fix on Facebook / Follow us on Twitter
IMAGE: PragerU/YouTube