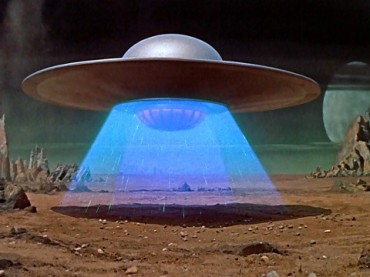 The year: 1968. A science fiction show called Star Trek makes history by featuring the first interracial kiss on American television.
The year: 1959. A writer named Robert Heinlein makes a Filipino young man his protagonist in what many consider to be his best work, Starship Troopers.
The year: 1973. Marvel Comics' Captain America title features its hero tracking down a villain who ends up being none other than President Richard Nixon himself. The event causes Cap to become highly disillusioned, and he gives up wearing the American flag for a time.
The year: 1980. Writer Gregory Benford's novel Timescape warns of global environmental apocalypse if humans aren't more careful in how they alter their surroundings.
Science fiction has always been an avenue through which creators comment on political, cultural and social matters. Like racism. The nature of society and government. Abuse of power. Stewardship of our planet.
But only in the hallowed halls of academia will you discover such is not enough for this creative genre. No sir. If the creators are not of the "right" color or background, and if the "right" issues aren't being addressed adequately, then there's a problem.
At the University of California, Riverside, a grant was needed to explore "ethnic futurisms" — because, it seems, "there has long been an unacknowledged tradition of SF written by people of color."
"Alternative Futurisms," which will launch in September 2015, will bring together African American, Latino, Native American, and Asian American scholars, artists and writers to examine the colonial roots and legacies of science fiction and the power of speculative fiction as a tool for social change.

Science fiction fans and scholars are rethinking what counts as science fiction, explained Sherryl Vint, professor of English and co-director of the SFTS program with Latham. Vint is co-principal investigator of the Sawyer Seminar with Latham and Nalo Hopkinson, professor of creative writing and an award-winning author of science fiction and fantasy.

"The canon is not monolithically white," she added. "Questions of social justice are emerging, particularly with regard to colonialism, borders, DNA, and profiling. Our seminar will elicit and sustain dialogue among the many peoples of color who are using speculative techniques to combat systemic racism and will seek to displace the hegemony of the post-racial imaginary with a range of ethnic futurisms."
The "colonial roots and legacies" of sci-fi? Sounds like yet another university-based grievance fest. And who wants to translate that last sentence? Any takers? Here, I'll give it a go:
"Our seminar, comprised almost exclusively of non-white folks, will discuss how science fiction can combat the persistently and incorrigibly racist Western societies, and will strive to abolish the popularity of racial unity themes in the genre and replace them with various racial and ethnic separatist group fictions."
How was that?
Unfortunately for UCR, other than that last deconstructivist-based sentence, there's little new "Alternative Futurisms" offers to science fiction. "Speculative fiction as a tool for social change" is, after all, what sci-fi is.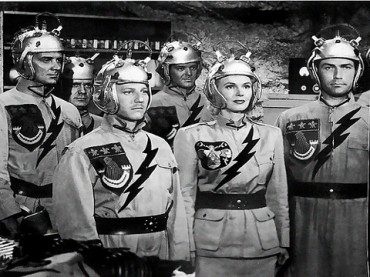 Sorry. We're too white.
This story comes about, ironically, at a time when there has been considerable debate within the science fiction community about matters racial and sexual. The rise and popularity of social media, particularly Twitter and Facebook, have served as a catalyst for such. This online brouhaha, for example, between conservative author Larry Correia and lefty writer John Scalzi is a (continuing) microcosm of such. Unfortunately, the predictable accusations of racism, sexism and homophobia by those in the latter camp mar real conversations.
Over the last decade or so, the "Big Two" comicbook companies Marvel and DC have made headline-worthy attempts to "diversify" their ranks — characters and creators alike — sometimes by turning long-established characters into something they're not. And, like the liberal (general) science fiction crowd, progressive comicbook fans and creators alike are quick to denounce any criticism of such, however innocuous.
Most recently, for example, it was announced the Marvel character Thor would become … a woman. (This is in the comics, not the movies, so don't worry about Chris Hemsworth ladies. Oh, wait, was that sexist? My apologies.) Even reactions such as "it's just a cheap gimmick" have been met with angry counters, invoking "misogyny," "angry white males," "marginalization," and, of course, "racism." Like the movie industry's predilection for churning out "reboots" of even classic science films, such announcements, much like comicbook character "deaths," are merely short-term gimmicks, guaranteed to result in a sales boost, however fleeting. I suppose it's just too much work to actually create new (diverse) characters, much like it's the same situation with writing original movie scripts …?
Science fiction aficionados crave good stories, no matter the race/gender/sexual orientation of the creators or the stories' characters. An all-consuming desire for — and corresponding knee-jerk criticism toward dissenters of — superficial "diversity" does little to enhance and encourage the human oneness much of science fiction envisions. Nor, for that matter, does seeking to "displace the hegemony of the post-racial imaginary" with cluttered, separatist racial/ethnic literary enclaves.
Lastly, in terms of access and availability, today there is little to prevent minority science fiction creators from getting their creations out to the public. They certainly don't face, for example, what Benny Russell did in my favorite Star Trek: Deep Space Nine episode, "Far Beyond the Stars." All it takes is hard work and a lot of persistence. Just ask sci-fi author great Larry Niven; even a trust fund (white) guy's stories like his got rejected a gazillion times … but eventually one broke through. And I, for one, am glad he kept at it.
Dave Huber is an assistant editor of  The College Fix. He's written about science fiction and comics (among other things) for over a decade, mostly at The Colossus of Rhodey.
Like The College Fix on Facebook / Follow us on Twitter
IMAGES: Matthew Vaughan & x-ray delta one/Flickr