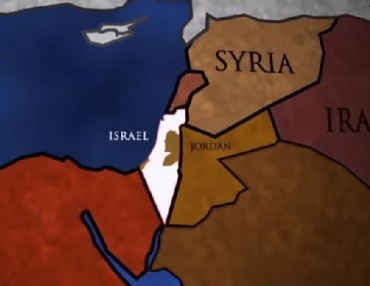 A "Whose Jerusalem?" workshop created by a Boston University professor that's been taught in many high schools in recent years and was added to the Common Core-approved national curriculum has come under fire by critics who contend it whitewashes terrorism, promotes an anti-Israel and anti-American political agenda, and encourages young people to sympathize with Hamas.
Americans for Peace and Tolerance released an expose video April 23 that aims to prove "Whose Jerusalem?" fails "to meet the basic rules of evidence and logic and attempt[s] to indoctrinate students, especially Jewish students, against the state of Israel."
The workshop teaches that Hamas – a U.S.-designated terrorist group – and Fatah are political parties that support "more peaceful means than intifada," among other lessons. The group argues the lesson abandons "academic integrity" and enlists students as political activists for an ideological cause.
"Despite its bias and serious flaws, the … workshop is Common Core compliant," APT president Charles Jacobs said.
The workshop's curriculum, designed for students in middle and high schools, requires students play the parts of Arab, Israeli, or American leaders to negotiate a "BATNA" (Best Alternative to a Negotiated Agreement) for the division of Jerusalem using the materials provided by the workshop.
According to Americans for Peace and Tolerance's video, the workshop also includes exercises that asks instructors to have Jewish students empathize with Hamas, a U.S.-designated terrorist group that calls for the death of all Jews in its founding charter. 
Boston University Profesor Carl Hobert, who developed the workshop, has defined "Whose Jerusalem?" as "educational civil disobedience" guided by a hands-on approach. Included in APT's video is a clip of Hobert speaking to an audience about the simulations done in his workshop on the Arab-Israeli conflict. When describing the roles students play in the simulation he says:
"When a student goes, I am devoutly Jewish and I've got family members in Israel. I would like to be a member of Likud Party. Guess what we make that student? A member of Hamas."
In APT's video, Hobert is also quoted saying that students learn through the workshop that Hamas and Fatah are political parties that support "more peaceful means than intifada." APT uses the lesson plan's paperwork to show students are taught to equate these "political parties" with Israel's democratically elected parties, such as Likud and Labor.
 
The workshop also suggests an equivalence between the use of military drones by the United States and terrorist suicide bombing. APT's video shows Hobert telling students that drones "kill people who
are supposedly terrorists." He asks, "Isn't that a form of terrorism?"
Hobert did openly admit in an interview with Al-Jazeera that through these exercises students will learn to "put pressure on our government to create a Palestinian state."
Noam Chomsky of MIT and Denis Sullivan of Northeastern, both outspoken critics of Israel and America, assisted Hobert in the creation of the course, according to APT. Hobert even brought Chomsky, who is described in BU Today as his "friend and longtime inspiration," to speak about the Middle East at Boston University in 2009.
Hobert did not respond to repeated requests for comment from The College Fix. 

Stand With Us released a statement May 7 thanking APT for exposing the bias in the workshop.
"Under the guise of 'global education' and 'conflict resolution,' it distorts facts about the Arab-Israeli conflict, promotes an anti-Israel political agenda, and encourages sympathy for terrorist groups," the nonprofit stated. "It is shameful that Boston University would sponsor a program that degrades academic standards, misinforms students, and gives its imprimatur to indoctrination masquerading as scholarship."
Zionist Organization of America's Northeast Campus Coordinator Zach Stern said he is also worried about the impact this course will have on students' understanding of the Middle East.
"This workshop is very troubling," Stern told The College Fix. "Why pretend that Hamas and the PA are reasonable actors when both openly call for the genocide of the Jewish people and the destruction of the Jewish state? This workshop seems to ignore the actual facts; and its impossible to solve anything without recognizing the facts." 
But Hobert described the workshop as simply "a conflict resolution case study used in middle and high schools around the U.S." It was created with state and federal education dollars, and is an approved Common Core State Standards-based curriculum workshop, his professor profile notes.
Already the controversial "Whose Jerusalem?"  is conducted in many high schools. It is offered through the nonprofit "Axis of Hope," which operates out of the Boston University Global Literary Institute and works with at least 25 high schools in various states and three foreign schools, according to the nonprofit's website.
APT's Jacobs noted "at a time of growing anti-Semitism on U.S. college campuses, it is very disturbing [Boston University] would permit or promote such biased educational materials in the classroom."

Axis of Hope describes itself as a nonprofit "dedicated to developing in young adults an understanding of alternative, non-violent approaches to resolving complex conflicts locally, nationally and internationally."
College Fix reporter Alexandra Zimmern is recent graduate of the University of Wisconsin-Madison.
Like The College Fix on Facebook / Follow us on Twitter
IMAGES: APT