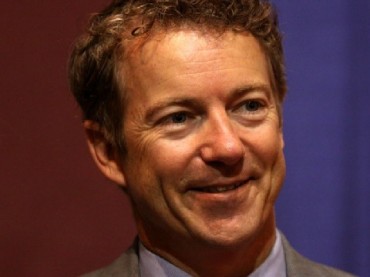 ANALYSIS: How the possible 2016 presidential contender woos college voters by walking political tightrope
After a recent speech at the College of Charleston in South Carolina, Sen. Rand Paul fielded questions from the crowd, and he answered them with the poise expected of an experienced politician.
But then one woman stood up and asked Paul whether he is opposed to Plan B, commonly known as the morning-after pill. Paul, who states on his website that "I am 100% pro-life" and introduced the Life at Conception Act in 2013 that essentially extends Constitutional rights to the unborn, was visibly stumped at first by the question.
The Republican senator from Kentucky ended up answering the question in the negative, telling the woman: "I am not opposed to birth control." After a long pause, he added: "That's basically what Plan B is. Plan B is taking two birth control pills in the morning and two in the evening, and I am not opposed to that."
While he answered the question forthrightly, his trepidation was understandable.
Social conservatives have bridled at the likely presidential candidate's stances on abortion in the past. During an interview earlier this year, Paul said that he is not in favor of overturning Roe v. Wade, which left some social conservatives rankled.
He is in a difficult position. If Paul is to make a serious run at the presidency in 2016, he is going to have to find a way to court the conservative base while keeping the libertarian crowd he inherited from his father, Ron Paul.
While social conservatives are unsure about some of his stances, the college libertarian crowd is still fully in Rand Paul's corner.
Some might beg to differ. Natasha McKenzie, president of the College Democrats of America, wrote an op-ed in The Hill recently that suggested Paul is a brand millennials aren't buying.
"Rand Paul's policies may please folks like the Koch brothers, but they're wildly detached from the needs of young Americans," she stated. "Democrats win young voters because we fight for their values, and if Rand Paul is the best the GOP's got, that contrast will only be clearer."
But perhaps it's McKenzie who is out of touch. Paul won admiration from many young people when he famously filibustered in 2013 against drone warfare.
What's more, a newly coined voting bloc called "Young Outsiders" has two major attributes – they are socially liberal and fiscally conservative. These "Young Outsiders" – named by the Pew Research Center in its recently released political typology report, make up about 13 percent of the voting population and could very well swing future elections in Republicans' favor, research finds.
It's a voting bloc that fits within Paul's polemics.
One of the students who heard Paul's talk was 21-year-old College of Charleston senior Sean Mahoney, secretary of the Young Americans for Liberty chapter at the school.
Mahoney said he thinks Paul is a new kind of Republican, one that is committed to bringing the sizable libertarian contingent into the fold.
"You can see where he (Rand Paul) stands on the important issues," he told The College Fix in a phone interview. "He is like a revised version of his dad. He is distinct from his father. And distinct from the Republican Party."
"I definitely think that Rand tries to make concessions on his views," Mahoney added. "It is not to the extreme. He does come from the libertarian side … so, people who think that he is trying to be more liberal, or think that he is trying to make the party more liberal, probably do not understand the libertarian view in the first place."
In effect, Mahoney said, the concessions are made for the purpose of putting Republican style dressings on libertarian messages.
Take Paul's interview with CNN's Peter Hamby after the Charleston talk, during which he gave his stance on gay marriage, one that was crafted to appeal equally to libertarians and conservatives, one that was nuanced and measured.
"I believe in old-fashioned, traditional marriage," Paul said, but he quantified his statement by also saying the federal government should not be heavily involved in marriage contracts.
The caveat gave him wiggle room, ostensibly allowing him to make the argument that conservatives can be both for traditional marriage and against federal government intrusion in marriage contracts.
Paul, who favors blue jeans and a down-to-earth personality, has stormed the college scene around the country, receiving standing ovations from both conservative Republican and left-wing students at a UC Berkeley talk earlier this year. He also received some praise from big-tent Republicans for appearing at Howard University, a historically black university.
The Berkeley students were especially enthusiastic about Paul's evisceration of President Obama's expansion of NSA influence in the private sphere.
"I find it ironic that the first African-American president has without compunction allowed this vast exercise of raw power by the NSA. I believe what you do on a cellphone is none of their damn business," Paul said to applause.
Indeed, the strategy Paul is using to endear himself to college students appears to be resonating. His willingness to criticize the NSA and government debt during his campus talks appears to be a winning strategy. College students – conservatives and libertarians in particular – are eating up the message.
Joshua Jaye, the Young Americans for Liberty state chairman in South Carolina, who attended the talk at Charleston, told The College Fix in a phone interview that millennials are losing trust in the government "primarily because of the government's interventionist policies, and the tremendous amount of debt that keeps increasing yearly, and nobody seems to want to cut it back."
The result of this distrust is the election victories of politicians like Paul, Justin Amash (R-Mich.) and Thomas Massie (R-Ky.) – all of whom are associated with the libertarian wing of the Republican Party.
Whether Paul runs for the presidency in 2016 remains to be seen, but if he does decide to vie for office, he can be sure to have a sizable conservative and libertarian student population in his corner.
College Fix contributor Christopher White is a University of Missouri graduate student and an editorial assistant for The College Fix. He is involved in campus liberty groups as well.
Like The College Fix on Facebook / Follow us on Twitter
IMAGE: Gage Skidmore/Flickr