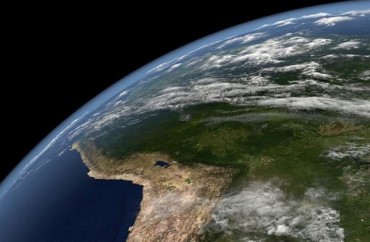 Dr. John Christy's findings have made him a target within the scientific community
Dr. John Christy is a highly decorated professor of atmospheric science at the University of Alabama in Huntsville – but despite his awards, accomplishments and distinctions – the fact that he's an outspoken critic of climate change doomsday predictions has made him a pariah in the scientific community.
He's been awarded NASA's Medal for Exceptional Scientific Achievement for satellite research, has testified before the Congress numerous times, is Alabama's official state climatologist, and served as a lead author of the U.N. Intergovernmental Panel on Climate Change.
But the very fact that he suggests the world is not on teetering on some dangerous precipice due to global warming makes him an aberration among most scientists who suggest this planet is headed for destruction because of man-made global warming.
One colleague refused to shake Christy's hand at a symposium, and Christy's name was also used critically in many infamous "Climategate" emails that indicated global warming claims have been exaggerated, The New York Times reports.
The "Skeptical Science" website calls Christy a "misinformer." And earlier this year, a Democratic U.S. congressman launched an investigation into Christy's
funding sources, suggesting he's taking money from the fossil fuel industry. Christy does not.
Meanwhile, Christy methodically moves forward to do what he does best: he studies weather data and shares his findings with the world.
"I don't let this bother me too much," Christy said in an email to The College Fix this month about the steep criticisms and name calling he's faced. "My wife of 39 years suffered with cancer and passed away a few months ago, so I have a perspective on climate intimidation relative to things that are really important."
"I don't read sites that attempt to smear me … no sense in engaging people who don't know what they are talking about."
In Christy's latest public opinion, he weighed in on Pope Francis' controversial encyclical.
"I am one of those climatologists who builds datasets so we can measure what the climate system is doing and why," he wrote for Alabama.com. "In my reading of the results, I don't see disasters ahead – the world's atmosphere has warmed little since satellites began estimating global temperatures and extreme events like droughts and hurricanes aren't increasing."
"To be sure, others see it differently," he continued. "However, I tend to focus on the fundamental metrics that, according to theory, should be measurable if the extra carbon dioxide we are emitting into the atmosphere is actually causing huge changes. The real world simply doesn't align with the theory. Whether you are a Baptist (like me), a Buddhist or a Baha'i, the numbers come out the same … and 'science' is all about the numbers."
Last year, Christy told The New York Times "I detest words like 'contrarian' and 'denier,' " he said. "I'm a data-driven climate scientist. Every time I hear that phrase, 'The science is settled,' I say I can easily demonstrate that that is false, because this is the climate — right here. The science is not settled."
And in an April interview with Alabama.com, he also corrected the oft-cited statement that 97 percent of scientists agree on climate change.
"The impression people make with that statement is that 97 percent of scientists agree with my view of climate change, which typically is one of catastrophic change," he had said. "So if a Senate hearing or the president or vice president says 97 percent of the scientists agree with me, that's not true. The American Meteorological Society did their survey and they specifically asked the question, Is man the dominate controller of climate over the last 50 years? Only 52 percent said yes. That is not a consensus at all in science."
But media and pundits have consistently echoed that science is consolidated in unity over the idea that the globe is warming and the main cause of that is human activity across the world.
This has been the backbone of international attempts to reduce greenhouse gases in many industrialized nations. Scientists who disagree, and even those who agree but question the severity of the problem, are cast as pariahs or "cooks," often scorned by their contemporaries.
Yet Christy is not alone in holding the line against doomsday predictions.
Dr. Terry Hughes, a professor emeritus of earth sciences and climate change at the University of Maine, said researchers want to keep federal funding for climate change alive, and politicians want to earn environmentalist votes, and both predict global pandemonium to that end. But Hughes has said the world is not on the brink of disaster.
Dr. Judith Curry, a professor of earth and atmospheric sciences at the Georgia Institute of Technology, has also found uncertainties and weaknesses in climate-change models.
American University statistician Caleb Rossiter's infamous declaration that belief in a climate catastrophe is "simply not logical" got him canned as an associate fellow at the Institute for Policy Studies, a progressive Washington D.C. think tank, last year.
A study last year from the journal Proceedings of The National Academy of Sciences found human beings are not the primary contributors to global warming. As it turns out, natural variability in the Earth's atmosphere plays a crucial role in climate change.
Roy Spencer, another climate scientist at the University of Alabama in Huntsville who dismisses the notion of dire global warming predictions, suggests that those who do believe it are "not unbiased."
"Most of them probably really do believe we're destroying the earth," Spencer told Alabama.com. "When I talk to scientists who should be objective over a beer at the end of the day, I will argue with them and their final position will always be, 'Yeah, but we need to get away from fossil fuels anyway.' Where did that come from? Are you an expert in alternative energy sources and what they cost?"
Like The College Fix on Facebook / Follow us on Twitter
IMAGE: NASA/Flickr