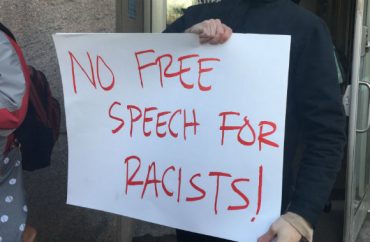 'We can all relax now' for a change
Social justice activists were more talk than action outside Charles Murray's lecture at Columbia University Thursday night.
Having vowed they would protest and disrupt the libertarian social scientist's event if it weren't turned into an open debate, the Barnard Columbia Socialists were not seen anywhere on campus.
Instead of the socialists' pledged walkout and counter-discussion, the protesters who showed up outside did not appear to be students. They held signs but refused to identify themselves or speak with The College Fix.
And unlike the mob of Middlebury College students and outsiders who surrounded Murray and put a professor in the hospital earlier this month, Murray's audience of about 70 students, faculty and journalists remained eerily calm.
It was his second lecture since the Middlebury melee. Murray's appearance at Duke University earlier this week was similarly quiet, though it featured a heavy security presence.
If there was a security presence at Columbia's event, also open to Barnard College students, it wasn't apparent.
MORE: Student vandals put devil horns on 'white supremacist' Charles Murray
'Revolt against the new upper class'
"We can all relax now," Murray said as he began his Columbia lecture, "Are Elites to Blame for the Rise of Donald Trump," noting the absence of protesters and hecklers.
He explored the changing cultural and economic factors that contributed to the president's election, discussing the "Bubble Quiz" he developed. It assesses a person's familiarity with mainstream white America on a 1-100 scale.
"Nobody denies the changing nature of the white working class," he said in a discussion of his book Coming Apart, which is less controversial than his 1994 work on race and intelligence, The Bell Curve.
MORE: Conservative scholar shouted down, forced to leave lecture hall
Many people in the white working class, males in particular, have seen their life-expectancy going down in the last two decades, Murray said.
The recent "breakdown of community has been disastrous" due to economic factors such as loss of jobs and the changing role of marriage, Murray said. It has enabled Trump's rise in a "revolt against the new upper class," which doesn't respect white workers.
Beware becoming 'rightist clickbait'
Members of the Barnard Columbia Socialists, the campus chapter of the International Socialist Organization (ISO), did not respond to multiple requests from The Fix to explain their absence from Murray's event.
"Unless our demand for a chance to contest Murray's disgusting racism is met, ISO members in attendance will be walking out of Murray's speech," they wrote on one Facebook event page.
On another, they pledged to protest outside of the venue for Thursday's lecture, "to voice our opposition to Murray's racism and bigotry."
Jonathan Schatz-Mizrahi, the Columbia student who primarily organized the event, told The Fix that reading Murray's books inspired him to invite the social scientist to campus.
And he was pleased with the cordial behavior of Thursday's audience. "They came to hear him speak — they listened."
Murray will speak Friday afternoon at New York University. Another protest group, NYU Against Fascism, said on Facebook it plans to "disrupt" Murray's appearance.
It told would-be protesters to "bring signs, chants, and energy" as well as cameras to document the protest, and "stay aware" of uniformed security.
"Keep it clean but lively," the group wrote. "Don't play into 'The Right's Hand,' although these days it seems no matter what happens it becomes a rightist clickbait piece."
MORE: Professor injured at Middlebury says colleagues egged on students
Like The College Fix on Facebook / Follow us on Twitter
IMAGES: Toni Airaksinen, NYU Against Fascism/Facebook