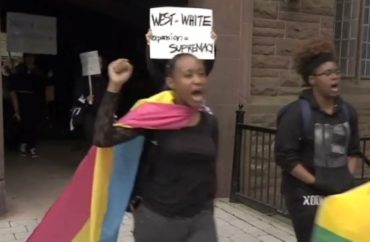 UPDATED
Racial unrest. Protests. Accusations. Name-calling. Threats.
The renown and historic Trinity College has become a hotbed of angry dissent and turmoil as students of color and their allies — including the infamous "whiteness is terrorism" professor — have accused some students of supporting white supremacy and being racist for their desire to study Western philosophical traditions.
Amid those accusations, the student government at Trinity College recently rejected a request for official recognition from the students' Churchill Club to support discussions on themes underpinning Western Civilization. The club is named after Winston Churchill.
Trinity College, founded in 1823 in Hartford, Connecticut, is known as one of the "Little Ivies," costing $76,450 annually in tuition, room, board, books and fees.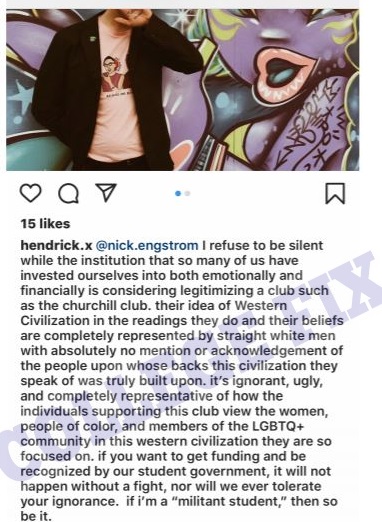 It's at this campus steeped in tradition that complaints from students of color and their supporters declare the Churchill Club's existence on campus marginalizes them and makes them feel unsafe and that it supports white supremacy and ethnocentricity. This led the Student Government Association to vote to deny the group on Sunday.
This decision prompted the university's President Joanne Berger-Sweeney on Monday to overrule the student government's determination. She cited the Office of Student Activities, Involvement and Leadership's approval of the club earlier in the semester as the reason why.
Berger-Sweeney's announcement prompted a crowd of roughly 50 students to storm an administration building on Monday and demand answers, saying they felt unsafe with the Churchill Club on campus and bemoaned that approving it is akin to condoning white supremacy at the school.
As a result, Berger-Sweeney quickly put out a public statement to the campus community to appease protesters and assure them she does not support white supremacy.
"This is a statement of my personal values, though I am confident that the overwhelming majority of the Trinity community would agree with this statement: I denounce white supremacy, and all that it represents in society today. I denounce racism and discrimination against historically and traditionally marginalized groups and I offer those members of our community my strongest support, recognition, and affirmation," Berger-Sweeney wrote.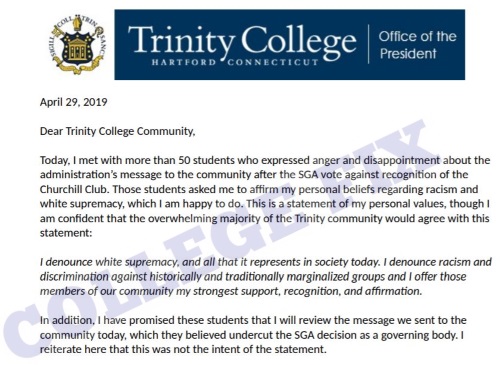 Her effort to calm the angry students quickly failed.
On Wednesday a petition was launched demanding that administrators uphold the student government's decision, with a student government resolution alleging the president of the college does not have the authority to overturn its decision.
"Please sign this petition for Trinity College to rescind their decision of legitimizing the Churchill club on campus (aka a club that promotes white supremacy and has targetting [sic] marginalized students on campus). It does not matter if you are not a student here, please sign it to reaffirm our power to rescind this organization's legitimacy," student Shamarah Patnett posted on Facebook.
Also on Wednesday some 200 students held a protest demanding the club be derecognized.
"We think that having a group like that is causing further … harm to marginalized students on campus," said Stephanie Bravo, a Trinity sophomore with the group Justice 4 Marginalized Persons, in an interview with the Hartford Courant.
The newspaper reports "students and faculty accuse the Churchill Club of giving a platform to white supremacists and to former Trump aide Sebastian Gorka, whose daughter is a Trinity senior and a supporter of the group."
A heated discussion took place at Trinity College in #Hartford today… We'll have a live report coming up on Ch. 3 https://t.co/FrHCsqUWSE

— WFSB Channel 3 (@WFSBnews) May 1, 2019
And WFSB Eyewitness News quoted Student Government Association member Jack Stone as saying: "The Churchill Club has been espousing some pretty troubling rhetoric in terms of race relations on campus. It's really been inflaming race relations."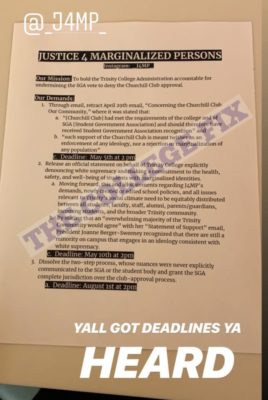 The students have pledged to continue their protests. On Thursday, they issued a set of demands.
The uproar this week has been building for months on campus as the Churchill Club has met in an unofficial capacity. And while protesting students against the club are claiming harm, students who support it have faced numerous aggressive tactics and attacks, they said.
Fliers have been circulated calling them racist, for one. Students' faces were posted around campus with the phrase "the new racism is every bit as ugly as the old," according to copies of the fliers obtained by The College Fix.
What's more, a Churchill Club member told The Fix, a student leading the effort to launch the club received what he believes to be a credible threat against him and reported this to authorities. Additionally, a student who is friends with members of the Churchill Club was also denied service at a campus coffeeshop, the group claims, noting the employee said they do "not offer service to people who associate with white supremacist."
Meanwhile, an Instagram account called "Militant Movement" was launched in an apparent attempt to attack club members and its mission. Posts include discussions of "white fragility." Another post declares: "To show how unintelligent this group is, they talk about western civilization in god-damn-Connecticut!"
"When the English (the WEST) arrived, they pillaged communities for centuries. After recurring genocides, they enslaved indigenous and African people. Whiteness has never been intelligent, this is why it camouflages but it does not reinvent itself."
Other social media posts have denigrated students involved with the club.
And students are not the only ones leading the charge against the Churchill Club. Trinity College Professor Johnny Eric Williams, who recently made national headlines for declaring on Twitter "whiteness is terrorism," wrote an open letter denouncing the club that some 50 scholars signed on to.
The college needs to take "a strong public stance condemning white supremacy without equivocating about harm experienced on 'both sides' of the issue," the letter stated, according to the Courant.
But the Foundation for Individual Rights in Education also sent a lengthy letter to campus leaders April 12 warning them about free speech, noting the school "may not deny the Churchill Club recognition on the basis of the group's views, or on the basis of opposition to the group by members of the campus community."
Among the controversies is the club's link to the Churchill Institute, a 3-year-old organization led by Trinity political science Professor Gregory Smith. According to the institution's website, the "primary mission of the Churchill Institute will be to encourage, in every way possible, serious teaching, learning and scholarship about Western Civilization and to promote a vigorous discussion of its preservation and future trajectory."
"To do so CI will promote teaching, learning and scholarship focusing on the texts and history of Western Civilization with an eye to understanding its successes, and occasional excesses," it adds. "Included will be an emphasis on the Classical origins of the Tradition, its transformation, preservation and extension through the Christian era, its further transformation with the commencement of Modernity and the growth of Modern Commercial Republicanism and the ramifications of the Postmodern attacks on the entire Tradition."
But Professor Smith has been "criticized for referring to on-campus cultural houses for African-American, Asian-American, Latino, Muslim and Jewish students as 'tribal enclaves,'" the Hartford Courant reports.
The Churchill Institute rejected the accusations against it in a statement to The College Fix.
"The Institute and its members stand firmly against racism, discrimination, and white supremacy, as well as any and all other insidious ideologies. They are directly abhorrent to our organization and our intentions."
The statement points out the institute has hosted three events since its founding in 2016: "One was a colloquium consisting largely of academics from across the political spectrum. The second was a guest speaker and former politician. And the final was a representative of FIRE who discussed the state of free speech on college campuses."
Currently there are about 10 active members of the club, "though many others on
campus have offered their support. … We remain hopeful to be seen as a convener of ideas, to connect people of differing opinions, and work united on ways to make the college better for everyone."
Editor's note: The story was updated Thursday with the protesters' demands. 
MORE: Student activists invade Winston Churchill-themed café, scream he 'was a racist'
MORE: New AP European History framework ignores religion, snubs Churchill
IMAGE: Internet screenshot
Like The College Fix on Facebook / Follow us on Twitter