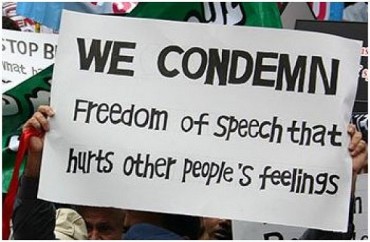 Dr. Douglas Haynes, the Vice Provost for Academic Equity, Diversity, and Inclusion at the University of California-Irvine, apparently was so aghast at posters advertising a coming appearance of conservative commentator Milo Yiannopoulos that he sent a school-wide email condemning the flyers' "offensive language."
He followed that by — sigh — "recommending that students participate in 'Safe Zone training.'"
UCI adjunct Gary Fouse sent his own email — to Haynes — inquiring why, for example, "Jewish students do not get this kind of concern when year after year, […] anti-Israel events come to our campus."
"Here is my point," Fouse writes. "The LGBT community at UCI is not the only group that feels threatened. It is time that UCI start paying attention to the comfort level of Jewish students as well. The UC Regents made a commitment when they issued their statement of principles.
"The university has an obligation to live up to it. What I ask is that UCI extend the same support to Jewish students when they are victimized as it does to other groups. You have exercised your own right of free speech in responding to Mr. Yiannopoulos' coming appearance. The university also has the right to exercise its own free speech in response to anti-Semitism on campus."
RELATED: Blood paint and vandalism greet anti-feminist troll Milo Yiannopoulos at Rutgers
If you were expecting a mealy-mouthed response, Haynes does not disappoint:
Dear Gary Fouse,

Thank you so much for reaching out to me. As you know, UCI is a space for the free interchange of ideas. It is quite true that some positions and viewpoints may indeed offend members of our campus community. This commitment to free speech is capacious enough so that any  community member may rebut attacks that offend. Indeed, Chancellor Gillman in his April 29 message to the campus on Free Speech and Mutual Respect put it this way "…when members of our community are subjected to hateful, discriminatory and inflammatory personal attacks, we speak out in support of them. The same First Amendment that protects offensive and even hateful speech also protects our right to oppose and condemn speech that is inconsistent with our values." (http://chancellor.uci.edu/engagement/campus-communications/2016/160429-free-speech.html). If you believe that you experience or witness behavior that is inconsistent with our campus Principles of Community, please submit an intolerance report at the https://ucsystems.ethicspointvp.com/custom/ucs_ccc/default.asp.

Thank you again for reaching out to me. I appreciate your engagement in this important matter. Please know that my office remains open to all members of the UCI community to further efforts to promote inclusive excellence.
Yes, submit an "intolerance report." We'll get to it. Sometime. Eventually.
The UCI College Republicans had also called out Haynes for his inconsistencies, wondering where the condemnation email was when students tore down posters advertising an event featuring David Horowitz the week before.
If UCI is "a space for the free interchange of ideas" as the provost says, then why did he label the Yiannopoulos (who's gay, by the way) advertisements "bigotry," and subsequently note that his freedom of speech should be shut down: "Let me be clear: Bigotry has no place here or anywhere."
That's not opposition and/or condemnation. That's a statement advancing a prohibition.
Read Fouse's full letter and blog post.
Read the Campus Reform report on the Milo posters.
RELATED: UMich students mocked, censored ahead of hosting anti-feminist Milo Yiannopoulos on campus
RELATED: Full video: Milo Yiannopoulos takes on blood-paint protesters in Rutgers appearance
Like The College Fix on Facebook / Follow us on Twitter
IMAGE: Sam Graham/Flickr