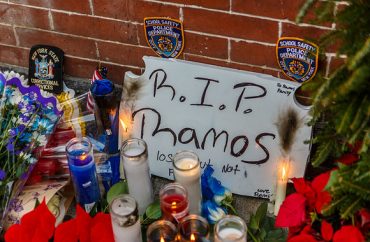 UPDATED
Invitation spearheaded by administrators – not students
A community college in California paid thousands of dollars to a black-separatist leader whose organization has praised terrorists as well as cop killers, and who claims that Jews exaggerated the Holocaust, according to records obtained by The College Fix.
Unlike events hosted by student groups or faculty, Cuyamaca College senior officials appear to have devised the idea of inviting Omali Yeshitela and facilitated his appearance at its "Diversity Dialogues" program at every step.
Born Joseph Waller in Florida, Yeshitela is the chairman of the African People's Socialist Party and founder of the Florida-based Uhuru Movement, which promotes "African internationalism" and justifies terrorism against Western targets.
Just this March on an Uhuru radio show, Yeshitela said the Holocaust "is being used against the African revolution" and that it's "extraordinarily controversial" to say that six million Jews died in the Holocaust. He seems to blame Jews for colonialist-era crimes by the German empire in Namibia in the early 20th century.
That show, titled "No Tears for Belgium," aired shortly after the ISIS attacks in Brussels. Yeshitela laughs repeatedly during the show as he appears to portray the bombings as part and consequence of a wider, morally just "resistance" against colonialism and capitalism.
He says, though, that he does not claim "terrorism should be the main form of struggle."
Contract demands meals from Whole Foods
Documents released to The Fix under California's Public Records Act reveal Cuyamaca paid nearly $4,000 in speaker fees, car rentals, hotel accommodations and flights for Yeshitela and two others to come to the San Diego-area college in October.
He spoke for two hours on "reparations for stolen black lives" at the Diversity Dialogues, a series of workshops through which students can earn a "Diversity and Leadership certificate." The college said the Uhuru Movement "advocates the economic and political liberation of black Africans."
The college paid Yeshitela $1,000 in speaker fees and purchased airline tickets and hotel accommodation for Yeshitela and a "companion" for another $1,008. It paid a $500 speaker fee to Penny Hess, a senior figure in the Uhuru Movement, and covered $761 in airline tickets and hotel accommodations for her.
Cuyamaca covered another $693 on car rental, gas, promotional materials and a per diem allowance for Yeshitela, his companion and Hess.
The college's contract with Yeshitela notes that he is vegan and "where applicable the speaker should be taken to Whole Foods or equivalent" for any meals.
Let's show white people how to 'stand in solidarity' with black communities
An October 2014 email suggests that Assistant Dean Wendy Craig first floated the idea of inviting Yeshitela to campus, though she wanted to bring him in February 2015 for Black History Month.
Craig told student leader Baredu Morka of Grossmont College, which shares a community college district with Cuyamaca, that she wanted to "talk about bringing Chairman Omali Yeshitela to San Diego" with Morka's Student Empowerment Organization. (Craig and Morka had met at a "White Solidarity or White Opportunism" workshop in Sacramento.)
Emails among Cuyamaca officials show their coordination to promote the event. Seven weeks before Yeshitela's Oct. 6 appearance, Della Elliott from the Advancement and Communications Office asked for more information on the event because she was "thinking of highlighting it."
Two weeks later Craig told Elliott she would send more information about Yeshitela and Hess, and described the event as a way for "white people" to "learn more about how they can stand in solidarity with the issues and struggles of the black community.
"I would appreciate any marketing efforts that you can do to get the word out," Craig told Elliott.
An official promotional poster for the fall series of Diversity Dialogues talks up Yeshitela's purported political credentials. The poster says that Yeshitela "leads the world wide struggle for African liberation."
Remembering the Holocaust is 'anti-revolutionary' and killing cops is 'righteous'
None of the communications given to The Fix suggests that Cuyamaca officials were familiar with Yeshitela's years of public statements on Israel and terrorism, or his associations with allies of Russian President Vladimir Putin.
Another group led by Yeshitela organized protests against "Israeli aggression" in front of Florida's Holocaust Museum two years ago.
Yeshitela himself suggested on a 2009 Uhuru radio show that Holocaust remembrance is an "anti-revolutionary stance" by "the Jews who are united with this whole Zionist thing," saying the widely accepted estimate of six million Holocaust deaths is exaggerated to diminish African suffering.
"They say nothing has happened as bad as what happened to those white people, and that's why it's got to be six million," Yeshitela continued on the radio show. "If they could make it 40 million, they'd make it 40 million … to hold up in the face of any Africans and other oppressed people around the world who say look at what you did to me."
A month after the terrorist attacks on Charlie Hebdo staff and shoppers at a kosher supermarket in Paris, the Uhuru Movement's official newspaper justified the attacks because "England and France drew the borders [in the Middle East] and forcibly denied them [Muslims] their free speech.
"Whenever we exercise our freedom of expression, the oppressors cry foul or proclaim that we do not have white values!" The Burning Spear wrote.
"The Kouachi brothers [who attacked Charlie Hebdo] were exercising their right to freedom too; this is what imperialism can not admit," it continued, quoting Mao Zedong's dictum that "every act of the oppressed people against the oppressor is an act of self-defense."
The Burning Spear has said that "U.S. soldiers on African soil deserve attack by the worldwide African nation." It described an Oakland man who shot four police officers as taking "a righteous stand of resistance to police terror."
At a news conference Friday – planned before Thursday night's sniper attacks that killed five police officers at a Dallas march against recent killings of black men by police – Yeshitela said the Uhuru movement was not "crying for the police in Dallas" because "we don't have any more tears."
The movement has tried to capitalize on the killing of one of those men, Alton Sterling in Louisiana, by urging fellow "Africans" (its term for anyone of African descent) to join the African People's Socialist Party and avenge "countless other police murders of Africans."
Meeting with Putin's "black ops" team
Yeshitela also has deep ties to organizations close to Russian President Vladimir Putin's Kremlin.
Last year he went on a "sponsored" trip to Moscow to attend an anti-American conference organized by the Anti-Globalization Movement of Russia, which is reported to be closely aligned with, and funded by, the Kremlin.
Representatives from Russian-backed separatist groups fighting in eastern Ukraine also attended the conference.
Yeshitela posed for a photo at the conference with Alexander Ionov, the politically well-connected leader of Anti-Globalization Movement, with a portrait of Putin in the background. Ionov has been photographed wearing a jacket bearing the insignia of terrorist group Hezbollah.
Stop-Imperialism.com, an English-language website registered to Ionov, published a detailed report about Yeshitela's visit to Russia that said he visited the Night Wolves, "a motorcycle club that is a favorite of Russian President Vladimir Putin."
Rolling Stone described the club as "self-styled vanguard of patriotic holy warriors, reportedly 5,000 strong," with Putin himself having ridden alongside the Night Wolves' leader, known as the Surgeon, "on several occasions."
The Stop-Imperialism.com report also mentions an "important meeting" between the American visitors and representatives of the Rodina ("Motherland") party, which was once banned by a Russian court from contesting elections because it "incited inter-ethnic tensions," according to a state news agency.
Led by the Russian deputy prime minister, Rodina's own leaders have referred to the party as Putin's "black-ops force."
Cuyamaca College could not provide comment on the process behind its decision to invite Yeshitela to speak before this article was published. Yeshitela and Craig, the assistant dean who suggested inviting him, did not respond to requests for comment.
Colin Cortbus is a university student in the United Kingdom.
UPDATE: The article has been amended to include the Uhuru Movement's response to July 7's sniper attacks on police accompanying a Black Lives Matter march in Dallas.
Like The College Fix on Facebook / Follow us on Twitter
IMAGE: Chris Parypa Photography/Shutterstock