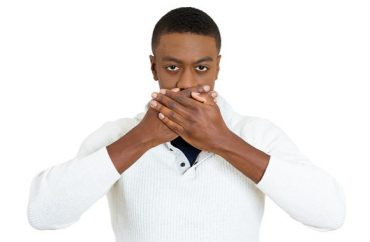 Why can't you be more like a Mormon?
Georgia Gwinnett College repeatedly restricted how an evangelical Christian student could communicate with passers-by on the public campus, even stopping him from proselytizing in a designated free speech zone, according to a new lawsuit.
The school is imposing an "unchecked right" to discriminate against student viewpoints by potentially labeling any speech that "disturbs the peace and/or comfort of person(s)" as "disorderly conduct," according to the lawsuit filed by the Alliance Defending Freedom.
The broad definition functionally stops students "from saying anything that prompts complaints from listeners" and imposes a "heckler's veto that effectuates content and viewpoint discrimination," it says.
The alliance's student client, Chike Uzuegbunam, appears to come from a Christian tradition that emphasizes the distribution of religious tracts and public preaching.
The school told him he couldn't distribute in front of the library because it wasn't in one of two campus free speech zones and he didn't have a permit, according to the suit. But when he reserved a free speech zone specifically to distribute tracts and preach the Christian gospel,
Defendants required him to stop because his speech had generated complaints, informed him that his speech constituted "disorderly conduct" because it had generated complaints, and instructed him to use the methods of other religious denominations to communicate his beliefs and viewpoints.
The 76-page lawsuit, which names 11 campus officials in their individual and official capacities, explains the rules for the free speech zones, which cover less than 0.0015 percent of campus:
To use these speech zones, students must submit a "free speech area request" form three days in advance and submit any publicity materials and literature they want to distribute to administrators for review. If students want to speak—whether through oral or written communication—anywhere else on campus, then they must obtain a permit from College officials. Thus, students may not speak spontaneously anywhere on campus. If students violate this policy, they violate the College's Student Code of Conduct and expose themselves to a variety of sanctions, including expulsion. Through the permitting process, GGC retains unfettered discretion to determine both whether students may speak at all and where they may speak.
Uzuegbunam complied when officials told him in late July that he couldn't express his religious views in front of the library and directed him to reserve a free speech zone.
But when he preached in that zone a month later while his friend distributed literature, without using "inflammatory rhetoric or personally attack[ing] any individual," Campus Police Lt. Corey Hughes stopped him, took his student ID card and called the Office of Student Integrity from his police car.
Ten minutes later, Community Outreach and Crime Prevention Sgt. Rebecca Lawler accompanied Hughes back to Uzuegbunam, saying the student had exceeded his permitted activity of distributing literature and having "one-on-one conversations" with passers-by.
Hughes told the student they only stopped him because officials "had received calls from people complaining about his expression," showing that he was "disturbing the peace and tranquility" around the zone.
Uzuegbunam was instructed to act like Mormons, who regularly visit the campus with permission, according to the suit:
Defendant Hughes noted that members of the [Latter-Day Saints] church spread their religious views through one-on-one conversations, not through open-air speaking. …

Defendant Hughes stated that Mr. Uzuegbunam should communicate his religious views using the same methods that members of the LDS Church uses, rather than through speaking publicly. …

Defendant Hughes observed that GGC officials do not receive complaints about the activities of members of the LDS Church when they express their religious viewpoints.
Alliance Defending Freedom is asking the federal court to suspend campus policies and declare they violate the First and Fourteenth amendments to the U.S. Constitution, it said in a press release.
Georgia Gwinnett is not rated in the speech-code database maintained by the Foundation for Individual Rights in Education.
Read the lawsuit and release.
Like The College Fix on Facebook / Follow us on Twitter
IMAGE: pathdoc/Shutterstock