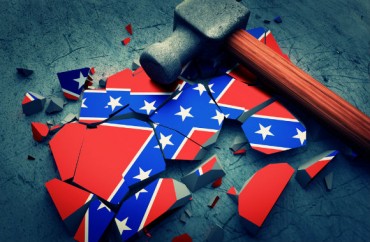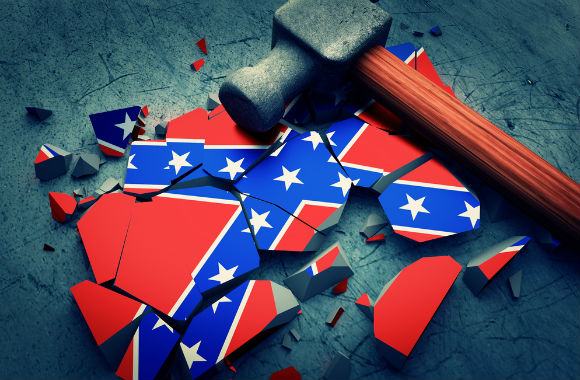 Hide your Hindu religious symbols, too
Kutztown University students should be wary about dorm-room decor in the new year, when a policy takes effect that gives housing staff the authority to remove "distasteful" and "demeaning" decorations.
The policy specifically names Confederate and swastika decorations – not just the Nazi variant of the swastika – as banned beginning in the spring 2016 semester.
Kent Dahlquist, director of housing and residence life, announced the policy change Dec. 7 in an email to on-campus residents.
The policy reads: "All decorations in common areas in the residence hall and apartments must take into consideration that obscene, distasteful displays which are demeaning to an individual's or group's race, ethnic, religious background, and/or gender or ability, will not be permitted and will be removed immediately, at the discretion of Housing and Residential Services."
RELATED: GWU gets pushback for punishing student who posted swastika-like symbol
The only specificity on which decorations are considered "distasteful" and "demeaning," and not simply subject to the whims of housing staff, is laid out in an even stricter portion of the policy.
"The Confederate flag and swastika are NOT permitted in any residence hall, suite, and apartment or student room" – not just common areas, the policy continues. 
Though the policy goes into effect next semester, Dahlquist warned that Confederate and swastika items left "in plain view during the closing of the residence halls" for winter break will be "noted and discussed with the student(s) upon their return."
Asked to expand on those prohibited items, Dahlquist wrote in an email: "Neither symbol has a place in our on-campus residence hall community; a community designed to celebrate and support a very diverse population that lives on-campus, as well as attends classes and works at Kutztown University."
Kutztown is keeping it classy… With all the confederate flags… #stop

— Keels Ney (@Keels_Ney) August 16, 2015
The Kutztown policy comes as George Washington University is facing controversy over its threatened punishment of a student who hung a Palestinian flag outside his dorm window.
Though the university claimed it was just enforcing an existing neutral policy, following student complaints about the flag, GW students have scheduled a "Fly Your Flag" protest at the school for Friday morning. GW also threatened to expel a student this spring who posted a Hindu swastika, a religious symbol, on a bulletin board but revoked the threat following both local and international condemnation.
Dahlquist told The Fix in an email that the Kutztown policy change resulted from student concerns and a phone call from a parent.
He would not provide specifics of the complaint but said he met with all of the students in the dorm room with the questioned decoration, which was removed from plain view. Finally, the decision came in early December for the university to officially ban Confederate and swastika symbols in the new policy.
RELATED: GWU drops its ignorant attack on student who posted Hindu symbol
Dahlquist also met with concerned students from the Black Student Union, which serves "to improve race relations and to develop an understanding of and foster education of black culture campus-wide."
The Black Student Union at KU has held protests for racially charged events in the past year, including a "Black Out for Baltimore" march in May and a die-in for slain Ferguson teenager Michael Brown last December, in which students lied down at a major intersection and traffic was diverted.
Our Rally On Friday, #WeAreMizzou #Kutztown #KutztownBSU #Mizzou pic.twitter.com/vUfXuxp4y9

— Black Student Union (@BSU_Kutztown) November 23, 2015
The change in decoration policy is an accomplishment, BSU President Maya Wilson told The Fix in an email, but she wants to see even more action on campus.
"It's a shock that in the year 2015 the Confederate flag and the Swastika are now finally being banned from on campus housing," Wilson said.
RELATED: George Washington University orders Palestinian flag removed from student's room
"The atmosphere on this campus is changing for the better and will allow all students from all different backgrounds to feel safe," she continued. "This is only the beginning of physical change on this campus and there is so much more we are striving to do."
Not all students are on board with the policy changes, though.
Kutztown university where confederate flags are banned but you can fly a Black standard(Isis) flag from the roof of old main. #beat

— Tristan (@Shoopack49) December 7, 2015
Tristan Shoopack currently hangs a Confederate flag in his dorm room. He told The Fix that the new policy does not explicitly prevent someone from hanging an ISIS flag in plain sight, but he doesn't believe in any case that hanging a flag in a dorm room can hurt anyone.
"I am all for ending campus racism, but in the same sense, college should prepare people for the real world," Shoopack said. "In the real world there are things that are going to offend people. That's just the way life works."
College is about being challenged and hearing different opinions… Unless you are at Kutztown #MyLiberalCampus pic.twitter.com/gsJcFUQYRr

— Joseph Drasdis III (@Jdrasdis3) December 7, 2015
Joseph Drasdis, another student that expressed frustration with the policy on Twitter, did not respond to a Fix inquiry.
RELATED: Southern author: Banishing Confederate relics 'a danger to the preservation and study of history'
RELATED: VIDEO: Vanderbilt is stuck with Confederate-named hall unless it demolishes the building
RELATED: Sons of Confederate Veterans denied access to Washington and Lee University chapel
Like The College Fix on Facebook / Follow us on Twitter
IMAGE: BladeTucker/Shutterstock, Foundation for Individual Rights in Education