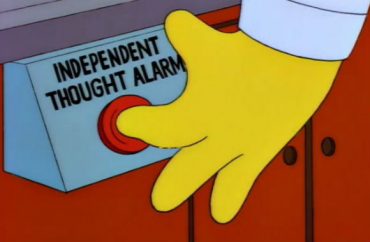 'Are you really following what Jesus wants you to do?'
The University of Northern Colorado told a professor he couldn't play devil's advocate in class, and now two sociology professors have told students in several classes they can't talk about the devil at all.
Heat Street found at least five syllabi offered by the professors in the past year that explicitly tell students their faith has no place in the classroom. They read:
[I]t is not appropriate to make personal statements of faith at any time, which will be used to evaluate other forms of religion.
Oddly, they also told students that "some discussion topics or comments may make you feel uncomfortable and challenge what you believe to be true or right," and that "listening to and learning from diverse views can enrich us all."
MORE: Colorado professor investigated for playing devil's advocate
Four syllabi (from this past spring) come from Prof. Kelly Davis, who also tells students they must use gender-neutral "inclusive language" in class.
One comes from Prof. Mark Shuey, who told Heat Street he "borrowed" language from Davis's syllabi but will probably junk the "inclusive language" requirement – which he didn't realize was in there – next semester "out of concern for students' free speech."
Shuey said he's mostly concerned about students making arguments with opinions, not facts:
I have several students whose total reality is based on Fox News. That's opinion-based, not fact-based.
MORE: Bias team investigates paper for giving 'less coverage' to trans people
But the professor said he would question students' religious beliefs if they didn't want to use gender-neutral language for religious reasons:
And most of the time, those people are religious, and most of the time [I'd say], "If you really believe in Jesus, you're supposed to serve people, not judge them. Are you really following what Jesus wants you to do?"
It's also his job to help students who "can't see white privilege" or are "wrapped up in their religion" to "look at the bigger picture," even though Shuey says he won't grade them down for saying "he" or "she."
MORE: Professors reported to bias response team for expressing conservative views
The administration told Heat Street it doesn't interfere in syllabi because of its "commitment to academic freedom."
The school shut down its bias response team – which had some defenders – after an administrator's interrogation of Prof. Mike Jensen for his lesson plan was exposed. It didn't renew his contract as an adjunct.
MORE: Meet the public university professor taking on his school's bias response team
MORE: Devil's advocate professor talks about being interrogated
MORE: You can't regulate speech, lawmaker warns public university
Like The College Fix on Facebook / Follow us on Twitter
IMAGE: Frinkiac.com