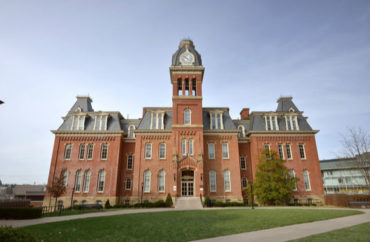 OPINION: Unity circle after the election, crickets for a student death
West Virginia University was recently designated one of the "safest college campuses" in the country – 34th out of 2,000 assessed by the National Council for Home Safety and Security.
The public university wasn't shy about telling the world. It sent campuswide emails and flashed the news all over its website.
But judging by its feeble response to conservative students – myself included – who have been attacked and threatened by leftists in the past year, WVU has a strange definition of safety.
The administration was blasé when protesters disrupted a WVU College Republicans event featuring the anti-feminist provocateur Milo Yiannopoulos.
Dressed in all black and ski masks and carrying signs proclaiming "Communism Will Win" and "Milo Sucks," these thugs tried to intimidate those in attendance. When that didn't work, they proceeded to pull the fire alarm to force everyone to leave the event.
Let it be noted: Falsely pulling a fire alarm is a criminal offense in West Virginia, punishable by $500 fine and up to six months in jail. The thugs faced no known consequences. WVU acted like it didn't even occur.
That official inaction encouraged further violence against conservative students, which was met by more indifference from the administration.
The following semester, a couple students and myself were physically attacked by another student in a university building because our political affiliations offended him.
We ran downstairs to escape the attack and call university police, which took about 45 minutes to arrive at the scene. The whole time, the student who assaulted us continued raging by himself upstairs. What would have happened if he decided to come downstairs and finish what he started?
I asked the administration for security footage from that evening, with the expectation it would show how the incident occurred and that we did nothing to provoke it. Administrators' response? No surveillance cameras in that building. Our video recording of the assault, which didn't capture its beginning, ended up being the only evidence.
The 34th-safest college in America, and no security footage in a major campus building.
It took a flood of people calling the university to demand an investigation before it bothered to follow up on the evidence we provided. What happened next sickened me: The administration interrogated me about how my group had agitated our attacker, and scolded me for posting the only evidence of the attack online.
MORE: Leftist student physically attacks conservatives
It's been more than two months since this "active investigation" started, and the university refuses to tell me if it even handed down a decision. I have no idea if my attacker has been disciplined at all.
I have continued to see the assaulter going to classes, with seemingly no disciplinary action, and no steps taken to protect me, the others or future victims of his anger.
What about this situation makes WVU the 34th-safest college in the country?
Three days after we were attacked, a student was found dead on a running and biking trail that runs along campus. Once again, the university had no surveillance footage that would help police to investigate this tragedy.
President E. Gordon Gee (below) – who spent $64,000 in taxpayer money on bow ties and related paraphernalia at his previous university – sent out a campuswide email two days after the troubling death near campus.
Did it honor the dead or acknowledge student grieving? Of course not. Gee announced campus resources would be made available for students troubled by a Trump administration executive order on travel restrictions from certain countries.
The administration planned an open forum and a unity circle for everyone concerned and affected by a political decision that didn't affect the vast majority of the campus community. Officials, professors and students overwhelmingly supported this action.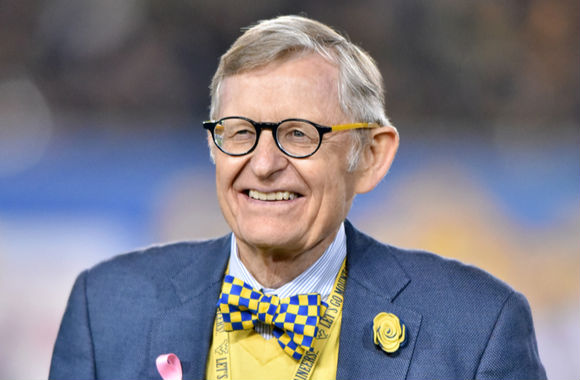 MORE: Gee gets rich off Ohio taxpayers
There was no university effort to sponsor a memorial circle for our fellow student who was found dead on the edge of campus – whose only acknowledgement came three months later in the form of a small bell-ringing ceremony – or a forum on how to keep ourselves safe. Instead, it sent a bland, boilerplate press release.
Our fabulously wealthy president has still never personally acknowledged the widely known physical assault that happened to my friends and me on campus property against my political group, nor sent an email to the community in support of those who were concerned and affected by a recorded assault on students.
Seeing no concern expressed by the administration, the student government soon after awarded $1,000 in university money to the organization led by our assaulter at the time of the assault.
This is WVU's track record on safety:
Conservative students threatened and physically attacked by leftists who escape punishment and even get financially rewarded.
The bare minimum concern for one of our peers who died near campus and students who fear being alone on that trail.
A campus bureaucracy that springs into action only when President Trump makes a policy decision that builds off something his predecessor did, with little personal relevance to the vast majority of WVU.
If your emotions are threatened, WVU is there for you. If it's your own body – well, you're on the your own.
MORE: Physically attack conservatives, get paid $1,000
Like The College Fix on Facebook / Follow us on Twitter
IMAGES: Aspen Photo/Shutterstock