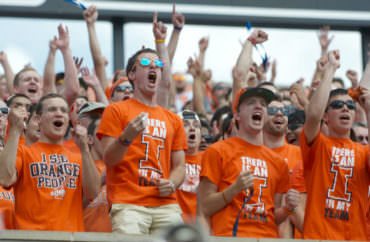 Psyching the crowd up at football and basketball games is triggering, apparently.
The University of Illinois is ditching its "Fighting Illini War Chant" because it's not "inclusive" and was harming "the atmosphere of Illinois football games," The Daily Illini reports.
Associate Director of Athletics and Media Relations Kent Brown told the paper "the atmosphere was much better when it used the video board and music rather than when the war chant was played."
The chant was also traditionally played by the Marching Illini during pregame warmups by the basketball team. Brown said it was a joint decision between the administration, athletics and marching band.
MORE: Black students say USC horse mascot promotes white supremacy
The Daily said a statement "will likely be made" by the chancellor after a Monday meeting of the Senate Executive Committee.
Neither the football nor basketball team Twitter feeds have mentioned the change today. It's also likely to step on the university's messaging for new student convocation.
Chancellor Jones: #ILLINOIS is going to be: challenging, nothing like you expected, change your lives and be a lot of fun. #ILLINOISwelcome pic.twitter.com/EpgfD8q9rh

— Univ. of Illinois (@Illinois_Alma) August 25, 2017
Brown told the Chicago Sun-Times that the last "three or four" university administrations have discussed "concerns" about the chant. He didn't provide any evidence that it was offending anyone at sporting events, simply saying: "If it did offend people, it was a great opportunity to make a change."
Students who started up the chant at a Thursday soccer match "were asked to stop the chant," according to Brown.
The Sun-Times said the change was foreshadowed 10 years ago when the university banned the Chief Illiniwek mascot.
Read the Daily and Sun-Times articles.
MORE: Catholic university dumps 'troublesome' Crusaders mascot
Like The College Fix on Facebook / Follow us on Twitter
IMAGE: Jonathan Street/Shutterstock