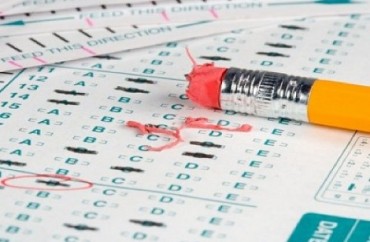 Anyone with a 3.0 GPA will now be admitted
Northern Illinois University announced this week that going forward it will be eliminating any consideration of standardized tests in its undergraduate admissions policies, instead admitting every applicant with a 3.0 or above grade point average.
The revised admissions policy is meant to "eliminate unnecessary and biased barriers," university President Lisa Freeman said in a statement, according to The Chicago Tribune.
High school seniors who apply to the DeKalb, Illinois school will no longer have to submit standardized test scores, the school said. The rule goes into effect for students applying for the fall 2021 semester, starting next school year.
Provost Beth Ingram said that knowing a student's GPA renders standardized testing scores "irrelevant." Freeman, meanwhile, said the new policy "comes from our deep commitment to making a college education both accessible and equitable for a broad and diverse student population."
The primary purpose for the elimination of testing requirements may actually stem from the school's steep drop in enrollment in recent years. The Tribune reports that two other state schools, Southern Illinois University and Western Illinois University, have implemented similar "test-optional" policies:
The changes in the admissions policy come as NIU has struggled to stem steep enrollment losses. The number of first-time freshman students at NIU has been stable for years. But overall enrollment has dropped 32% since 2009, according to state data.
The same is true in Carbondale and at Macomb. Total enrollment at [Southern Illinois University] declined 42.5% since 2009, from 20,350 to 11,695 students. [Western Illinois University's] enrollment has dropped by 40% in the past decade, from 12,679 to 7,624.
Ingram said the school hopes the new policy will "encourage good students to focus on getting the most out of their high school classes."
MORE: After backlash, College Board dumps 'adversity score' from SAT
Like The College Fix on Facebook / Follow us on Twitter