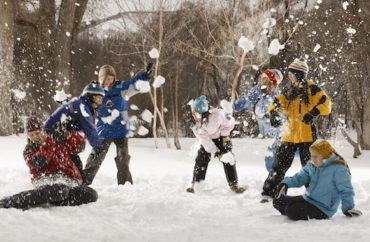 UPDATED
Snowball fights forbidden because of their 'potential to harm others'
Delaware State University forbids its students from throwing snowballs, a policy that a school official says is due in part to the potential "harm" that snowball fights pose to those on campus.
The rule, outlined in the school's Division of Student Affairs Student Judicial Handbook, lists "the throwing of snowballs on University grounds" under the "personal violations" category, alongside violations such as "being in the bath/shower areas of the opposite sex" and "making threats of violence or intimidation."
"This was made a rule due to the students throwing snowballs in the residential halls and there being the potential to harm others with hard, iced-over snow," Lawan D. Lanier-Smith, assistant director of judicial affairs, told The College Fix via email.
Delaware State University's public relations department did not respond to requests for comment from The Fix regarding the snowball policy.
Students who violate rules in the Student Code of Conduct at Delaware State University will be subject to disciplinary action. Under the Student Judicial System, the types of sanctions that can be imposed on students include, but are not limited to, warnings, official reprimands, community service, fines, and disciplinary probation.
Along with banning snowballs, Delaware State University also forbids the "use [and] possession of water guns, super soakers, etc. on University premises or during University activities."
In addition to snowfights and water gun wars, students are also forbidden to wear "of any item or items with the intention to intimidate, frighten, assault or harass others on University-owned or controlled property," according to the Student Code of Conduct.
Delaware State University's student conduct policies have earned it a negative rating from the campus watchdog group the Foundation for Individual Rights in Education. That group awarded the school a "Yellow" rating due to the school's having "at least one ambiguous policy that too easily encourages administrative abuse and arbitrary application."
Among those policies cited by FIRE is one that forbids "any verbal, written or physical conduct toward another that unreasonably creates an intimidating, hostile or offensive learning, living or working environment or unreasonably interferes with an individual's academic or work performance is prohibited."
As well, the group cites the university's campus speaker policy which mandates that "the host group is responsible for ensuring the safety of the speaker as well as those who listen, and the expense for such arrangements must be borne by the host group."
School security fees have served in the past as potential de facto bans of controversial speakers. Last year the University of California, Los Angeles demanded security fees to cover an event by conservative speaker Ben Shapiro. UCLA eventually backed off the demand.
And earlier this year the University of Miami demanded over $7500 in security fees to host social scientist Charles Murray, though public outcry eventually led the school to pay the fees itself.
CORRECTION: This article originally misidentified Delaware State University as the University of Delaware in one paragraph. The article has been corrected.
MORE: 'Snow penis' erected during snowstorm reported as 'bias incident'
IMAGE: MintImages / Shutterstock.com
Like The College Fix on Facebook / Follow us on Twitter