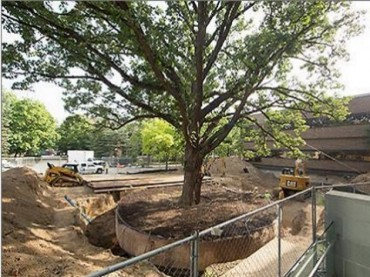 ANN ARBOR – The University of Michigan has begun the process of relocating one 200-year-old oak tree in the way of a campus renovation project – a pricey, green-friendly effort expected to cost the university as much as $400,000 on a campus that is already home to an estimated 16,000 trees.
News this week of the tree relocation came as students were also reminded of another financial burden – their tuition was ratcheted up for this school year, Provost Martha Pollack told students in a recent email. Student fees and room and board costs were also increased.
As for the 65-foot-tall oak tree, it's not something the vast majority of students have traditionally gathered around over the decades. It's not known to be a spot for marriage proposals, or a hang-out for tree huggers. Students don't gather around it and sing Kumbaya.
"It's just a tree," one University of Michigan alumnus told The College Fix.
What's more, the campus already has trees. Lots of them. The University of Michigan is known for being a tree-sheltered campus with more than 16,000 trees and about 100 more trees planted on campus each year, The University Record reports.
Asked what they would say to students concerned that officials are paying hundreds of thousands of dollars to move a tree that does not hold sentimental value to most students – but meanwhile they hike tuition and other student costs – university spokesman Rick Fitzgerald told The College Fix the relocation is not shouldered by tuition.
"The estimated costs is between $300,000 and $400,000," he said in an email to The Fix. "That cost is part of the project cost, most of which will be paid by donors."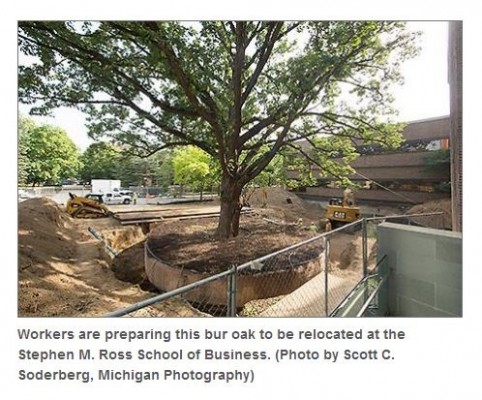 Yet the tree relocation comes even as the university's new president publicly pledged austerity.
"Our responsibility is to be as efficient and as effective as possible with the resources we have," incoming President Dr. Mark Schlissel told The Detroit News about three weeks ago. "It's a public trust. … I feel a real public commitment to use the resources as efficiently and as effectively as possible to promote the mission of the university."
It remains to be seen how that pledge will play out.
Bur oaks can live for about 400 years, but usually they are in their prime between 75 and 150 years old, according to the U.S. Department of Agriculture.
There is a 70 to 80 percent chance the bur oak will successfully flourish in its new location, Fitzgerald confirmed to The Fix.
It's unclear what role a petition signed by 291 campus community members played in the bur oak tree's relocation, with one signer calling it "a symbol of strength and resilience (that) far predates the university as part of the landscape," The Ann Arbor News reported.
"Discussion of options regarding the tree were under way before the petition drive was launched," Fitzgerald told The College Fix.
The tree relocation was prompted by a $135 million donor-funded construction project underway to completely revamp the Stephen M. Ross School of Business.
College Fix contributor Derek Draplin is a student at the University of Michigan.
Like The College Fix on Facebook / Follow us on Twitter
IMAGE: Scott C. Soderberg via University of Michigan