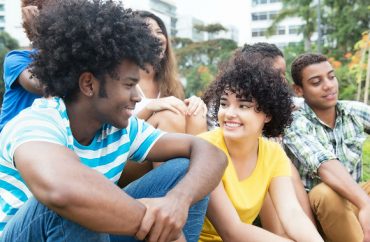 One public university has gotten into the business of helping Black and Latino freshmen make friends and survive college life.
Kent State University offers a peer-mentoring program that pairs freshmen of color with upperclassmen to help the incoming students "feel culturally affirmed," the university's website states.
The program "assist students in establishing a sense of belonging" and helps "students feel culturally affirmed as they transition into KSU throughout their freshman year," it states.
The program targets Black, Latino, Native American and multiracial students, and peer mentors typically have "common majors, interest and career goals."
As part of the volunteer program, called "Kupita/Transiciones" or K/T for short, the public university also hosts a free, four-day cultural orientation designed for newly admitted students of color. That annual event is slated to take place next week.
Freshmen will get a chance to "feel more connected to Kent State University" and establish their "La Familia," as well as be "affirmed in their cultural identity" and "gain an appreciation for different cultures," the university's website states.
Campus spokesman Eric Mansfield told The College Fix in a phone interview that Caucasian students have attended the K/T orientation in the past and the university has never turned students away from the program due to their skin color.
As for the Kupita program, it's nothing new. It dates back to at least 2010, according to the campus news outlet Kent Wired. In 2011, it was described as a way to help "incoming minority students transition."
"During the week, students attend presentations on topics such as advising, understanding the terminology of the university, getting involved on campus, keeping up with coursework, and achieving goals through graduation and beyond. Students also participate in cultural celebrations, such as an ethnic dance and food festival hosted in Oscar Ritchie Hall," Kent Wired reported.
But the university did recently increase the size of the special minority-focused orientation last year as part of a renewed emphasis on assisting students of color, Kent Wired reported.
That expansion was thanks to a new campus program called Dynamic Education and Engagement of Diverse Students, or DEEDS; it aims to help close the gap between the overall graduation rate and the minority graduation rate, as well as the minority retention rate, by providing more programs and more assistance to minority students, Wired reported.
All these efforts have not gone unnoticed. Kent State University was recently presented with a national diversity award. The recognition highlighted Kent State's Diversity Education and Training Lab.
"The lab is made up of a team with diverse expertise to help address issues ranging from blind spots and unintentional biases to recruitment, promotion and cultural competency skills," according to a news release.
Like The College Fix on Facebook / Follow us on Twitter
IMAGE: Shutterstock