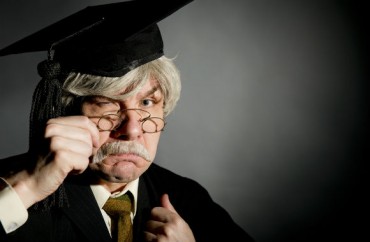 There are better ways to deal with grumpy professors than accusing them of "terrorism."
Colorado's Adams State University swallowed its pride and shelled out $100,000 to a professor that it banned from campus on the pretext that he was threatening administrators.
Danny Ledonne, a former ASU film instructor whose contract was not renewed, had simply launched a critical blog about the administration, WatchingAdams.org, that said it violated state law by delaying payments to adjuncts and that officials earned too much relative to faculty.
The ACLU of Colorado said it secured the settlement, which also includes an end to Ledonne's ban from campus, on the eve of depositions in his due-process and free-speech lawsuit.
The @adamsstate professor who was banned from the campus is now suing with help from the @ACLU. https://t.co/ySgVjDYbkz

— Westword (@DenverWestword) February 12, 2016
Ledonne's alleged harassment included showing up to the president's cabinet meetings, belatedly deemed a threat after Ledonne's blog posts started. President Beverlee McClure had sent a police officer to Ledonne's home to make sure he stayed off campus. (Ledonne's job in film production required him to be on campus regularly.)
The Foundation for Individual Rights in Education noted that ASU was in such a rush to come up with a policy that would keep Ledonne off campus that it swiped a "persona non grata" policy from a nearby college without taking that college's name out of it.
MORE: Ex-professor threatened for for showing up at president's meetings
Ledonne had told the Colorado assistant attorney general – also ASU's counsel – that the university was snubbing state taxpayers by threatening people like him who asked for more transparency:
Publishing compensation data and compliance violations by university personnel cannot be construed as a threat to campus safety.
Adams State insists it did nothing wrong to Ledonne, saying it acted after "concerns expressed by faculty, staff and students" (the ACLU said it offered no such evidence). The Denver Post reports:
"Adams State officials clarified that the ACLU did not 'win' the case," university spokeswoman Julie Waechter said in a statement released Monday. "The insurance company settled this as a nuisance case.

"The university's insurance paid the ACLU attorney fees; the only cost to Adams State was a $2,500 deductible. "
Read the ACLU statement, FIRE's post and the Denver Post story.
MORE: University can't 'interfere' with critical faculty blog, judge says
'Civility' a threat to profs' blogging against school, judge says
Like The College Fix on Facebook / Follow us on Twitter
IMAGE: Shutterstock