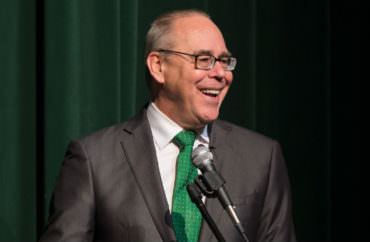 You just realized this lecture series targets conservative donors?
University of North Texas President Neal Smatresk really didn't want the son of a sitting president to speak at a lecture series that funds scholarships at the public university.
It's not because the school is paying Donald Trump Jr.'s $100,000 speaking fee, because it's not – a firm owned by the chair of its board of regents is covering that.
It doesn't appear to be an issue of UNT paying $125,000 to rent out AT&T Stadium, the home of the Dallas Cowboys and a popular draw for donors: That sum that was actually negotiated down by the regent paying Trump Jr.'s fee, Brint Ryan.
And it's not because Trump Jr. wouldn't be a popular draw: A senior fundraiser at UNT, David Broughton, said "many of our high capacity constituents [read: big donors] align with him and his message." An avid hunter, Trump Jr. is easily the most recreational member of the Trump clan, and he already has ties to big-game hunters and Republicans in the Dallas area.
No, Smatresk appears to simply be a coward who would rather incentivize threats against speakers and shutdown attempts than defend the university's prerogative to host speakers who are deeply offensive to the mainstream of its community.
MORE: Trump seemingly shunned by colleges as commencements approach
The Dallas Morning News obtained more than a thousand pages of emails that show Smatresk's ultimately failed attempts to get Trump Jr. disinvited from the Kuehne lecture series, which has featured former New York Mayor Rudy Giuliani, former CIA Director Michael Hayden and "four Fox News personalities" since a major donor created it four years ago.
The president can't be surprised Trump Jr. was invited: Records show his sister Ivanka was an early target for the lecture. Ryan, the regent, ran into Trump Jr. at a local Republican fundraiser in March. The lecture series, whose sponsorships are tax-deductible, has always been explicitly marketed as a networking opportunity.
He can't claim Trump Jr. will violate a vague state law by speaking with a "political purpose" in mind: Trump Jr. has told the university he will address "freedom of speech and issues of national significance."
1/ @DonaldJTrumpJr will speak @UNTsocial Oct. 24, but the decision has sparked controversy, @gromerjeffers & @bysambrose found. pic.twitter.com/pYNGN2BB4r

— Dallas Morning News (@dallasnews) October 4, 2017
Instead, Smatresk seems to have been cowed by opposition from community members who simply and vocally hate the Trump family:
[He] wrote that he was "not enthused" that the president's son would be the keynote speaker at a lecture series financed and arranged by major donors. "I am trying to stop it, but it isn't an easy thing," he wrote in August to a professor who expressed concern about the speech.

"Untangling this donor advised talk is more difficult than I expected," he wrote in another note. …

In the first few hours after news of Trump's speech broke on a Wednesday afternoon in August, emails from students and alumni began pouring in to the university.

"We never have this many," one employee wrote to colleagues in the fundraising department.

By Friday morning, the count was up to 117.  By UNT's account, most opposed Trump's speech; about 10 wanted tickets. Some said they would stop donating money to the school. An official response to address concerns was shared with campus leaders.
If Smatresk wanted a less cowardly reason to get Trump Jr. disinvited, he could have cited financial estimates: The lecture series this year is projected to net less money ($13,000) than previous years ($18,000-$235,000), according to documents reviewed by The News.
MORE: University pays BLM activist to call Trump names for 'Unity Week'
h/t The Chronicle of Higher Education
IMAGE: University of North Texas
Like The College Fix on Facebook / Follow us on Twitter