Application process appears to exclude white candidates
A Minority Recruitment and Retention Committee at Central Connecticut State University offers exclusive access to grant funding for a specific set of untenured and tenure-track faculty.
With the stated goal of retaining minority staff, the funds will only be allocated to faculty who "are members of minority and other protected groups," states a copy of the grant announcement, a copy of which was provided to The College Fix.
Untenured scholars accepted for the program will receive funding "to support projects and activities from February 2023 through August 2023," it states, adding it must be used for "projects that will provide direct support related to their retention."
"Funds may be used to defray the costs of travel to conferences, workshops, and special collections, and for data collection and creative work at distant field sites. Funds may also be used for such expenses as workshop and conference registration fees, and to support further study for credit or non-credit courses," the announcement states.
This initiative was created by "working closely with the Office of Diversity and Equity," the announcement states, adding it aims to "assist the university in achieving its goal of recruiting and retaining faculty members of minority and other protected groups."
A member of the CCSU community who provided a copy of the application to The College Fix and asked to remain anonymous stated "whites need not apply."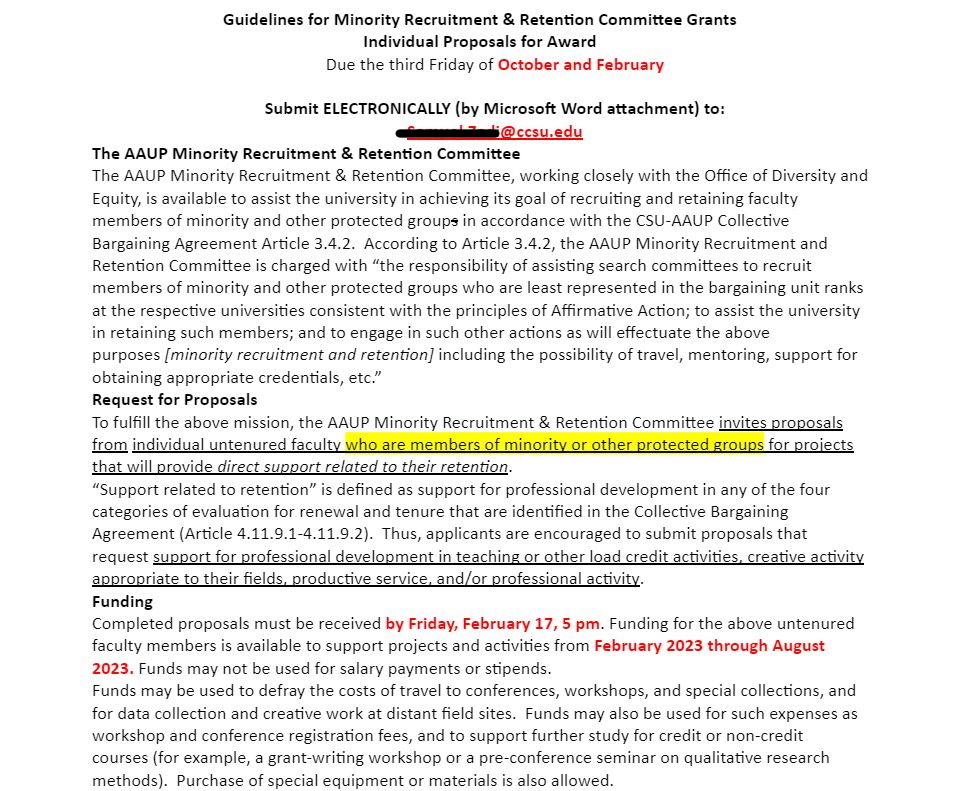 Excluding white faculty members also seeking to gain tenure at CCSU from being able to apply for grant funding based on skin color may be against federal law and the university's own policies.
CCSU's stated definition of discrimination defines it in part as subjecting individuals "to different treatment so as to interfere with or limit the ability of the individual to participate in, or benefit from, the services, activities, or privileges provided by the university or otherwise adversely affects the individual's employment or education."
Title VI of the Civil Rights Act also prohibits, in part, "discrimination based on race, color or national origin in programs or activities that receive Federal financial assistance."
Janice Palmer, the university's media affairs director, did not respond to requests for comment from The College Fix asking whether white faculty are excluded from applying and whether the program violates Title VI.
Samuel Zadi, the professor overseeing the grant application, also did not respond to requests for comment.
MORE: Oregon university faces civil rights complaint for excluding whites from campus events
IMAGE: Marjan Apostolovic / Shutterstock
Like The College Fix on Facebook / Follow us on Twitter