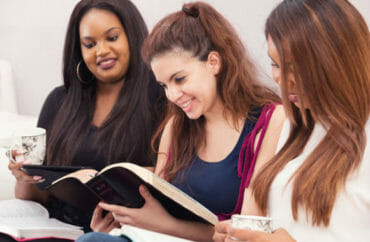 Wayne State threatened to take 'aggressive measures' when challenged
Every club at Wayne State University gets to choose its own leaders in line with its own beliefs and mission.
Except for one evangelical Christian club.
The Becket religious-liberty law firm is suing the Michigan public university on behalf of its InterVarsity chapter for requiring the evangelical club to allow non-Christian leaders in writing in order to continue receiving school recognition and associated benefits, such as free meeting space.
The Tuesday lawsuit says the chapter has been operating at Wayne State for more than 75 years with no fuss from the administration.
The chapter requires prospective leaders to go through an apprenticeship program that prepares students to "provide spiritual leadership and training for their peers," run by the national InterVarsity USA organization.
They must divulge their "relationship with Jesus Christ" and "personal devotional life," and commit to at least 10 hours a week of chapter leadership. They also must affirm its statement of faith before performing religious duties such as "leading Bible studies and engaging in religious teaching," according to the suit.
Wayne State's decision to single out one club for discriminatory treatment might be the death knell for the InterVarsity chapter, according to the suit:
Obtaining recognized student organization status is particularly important at a university like Wayne State, which is a commuter school where most students live off campus and are only present on campus for a few hours per week for classes and coursework. … A presence in the student center and a regular meeting space on campus enables student organizations to provide community and reach out to students who live and work in scattered locations.
Wayne State U. in Michigan recognizes 400+ student groups. It permits the Secular Alliance to require its leaders to be secular. But it de-recognized the InterVarsity Christian Fellowship for insisting that its leaders be Christians. Becket to the rescue! https://t.co/ttzZ43dPHd

— Robert P. George (@McCormickProf) March 8, 2018
Write a new constitution and just ignore it?
Starting in October, Wayne State told the chapter its constitution violated the school's nondiscrimination code by requiring leaders to be Christians. The club said it's not aware of anyone complaining about its leadership requirements.
"It is not clear that this portion of the code applies to student organizations, since they are private organizations not run by Wayne State," according to the suit.
"However, Wayne State's current position is that it applies to the Chapter" but not the multitudes of other recognized clubs that "openly place limitations on both membership and leadership," including a new fraternity "Wayne State was advertising."
Cristina Garza, then the chapter president, asked why Greek life wasn't punished for violating the policy, to which Richard Villarosa, coordinator of student life and student organization services, replied that "their constitutions complied":
Ms. Garza understood his comments to mean that campus organizations such as single-sex fraternities and sororities may state in their constitutions that leadership positions were open to all, but are allowed to disregard that rule in practice.
This same situation happened at California State University when it derecognized InterVarsity chapters in 2014, citing their written constitutions. An InterVarsity official said then that other religious clubs simply didn't put faith requirements for leaders in writing, so they stayed in the good graces of administrators.
MORE: Christians put faith requirements in writing, which gets them in trouble
Wayne State's assistant general counsel, Sarah Luke, told Garza that the university's application of the nondiscrimination code to a single religious organization's leadership was constitutional because "the policy is viewpoint neutral and is applied equally to all organizations seeking recognition," according to the suit.
The chapter accuses Wayne State of violating its own "process for derecognition," which took place 23 days after the chapter was first informed its constitution violated university rules:
Recognized student organizations are also entitled to notice, a hearing, and other procedures before they are derecognized for code violations. None of those processes were followed before Wayne State derecognized InterVarsity.
For the past several months the chapter has been functionally excluded from public life at the university:
InterVarsity has been unable to reserve free meeting rooms, host free tables for interested students, appear on the website where students may go to learn more about student organizations, apply for funding available to recognized student groups, or receive any other benefits granted to other recognized student groups.
It's banned from using the campus online portal for recognized student organizations, preventing interested students from learning about its events, and it has paid $2,720 to reserve campus space it should have received for free to host activities including Bible studies.
'A threat of further retaliatory action'
When the national InterVarsity organization got involved, the school threatened to take "aggressive measures" if the parties couldn't come to a resolution, "which InterVarsity understood as a threat of further retaliatory action against the student chapter or its members," the suit says.
General Counsel Louis Lessem denied there were "concentrated recruiting events" for six months, so the parties had plenty of time to reach a "mutually amicable settlement." In fact, the chapter was on the verge of missing a winter recruiting fair.
When the administration was reminded of this, Assistant General Counsel Thomas Cavalier suggested the chapter pay a fee to reserve a vendor table elsewhere in the building – not on the recruiting floor, according to the suit.
Because the chapter constitution is "identical in relevant respects" to those at chapters at other Michigan public universities, national InterVarsity fears all those chapters could be derecognized, "particularly if WSU attempts to justify its actions on the basis of state law."
On the case summary page, Becket says atheist, pro-life and Greek student organizations all get to choose members in line with their beliefs, but "by specifically targeting religious groups, Wayne State is violating its own policy against religious discrimination—in addition to the First Amendment."
In a statement, Becket said Wayne State "actively violates its own policy in many of its programs" and "should focus on educating students instead of playing belief police."
Read the lawsuit, case summary and Becket media statement.
MORE: Judge forces U. Iowa to recognize Christian group on same terms as Muslim
IMAGE: Dream Perfection/Shutterstock
Like The College Fix on Facebook / Follow us on Twitter