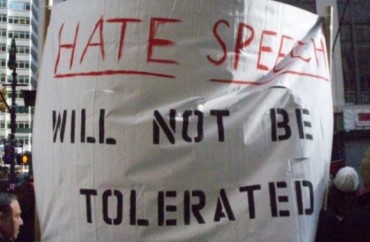 Violates 'a sense of decorum and civility'
For all you students who think there's an objective definition of "hate speech," so it should be easy and uncontroversial to censor it … well, look at what the University of New Hampshire just did.
The Sexual Harassment and Rape Prevention Program put up an art display against "street harassment" in mid-March, in keeping with its annual campaign to raise awareness of sexual violence.
The messages on the display were taken from a survey that asked for "direct quotes from students who had experienced street harassment," The New Hampshire reports.
They included off-color comments such as "You look like sluts" and "Flash your boobs."
It was supposed to stay up through April, which is Sexual Assault Awareness Month. But the same day it was put up – fully authorized by the school – the administration ordered it removed because of "negative reactions and feedback" from administrators and students.
Another instance where #FreeSpeech was restricted on campus. We need this dialogue. Harassment is NOT acceptable. .@UNHSHARPP https://t.co/5wD33psvEX

— UNH CRs (@UNHCRs) March 28, 2017
Think of the children
The Foundation for Individual Rights in Education said the administration defined the quotes in the display as "hate speech":
The policy states in part, "Any poster with 'hate speech' as defined in the Student Rights, Rules and Responsibilities will not be posted. Any poster/flyer containing profane/vulgar language is prohibited." A report by WMUR, the ABC affiliate in Manchester, also quotes a university spokeswoman citing this prohibition.
Here's how Dean of Students Ted Kirkpatrick explained it to The New Hampshire – note the literal "free speech, but" argument:
[W]hile I am certain that this was not the intent of the display, the fact is that the display elicited strong negative reactions from some who saw it. Importantly, the university does not shrink from its loyalty to the principle of free speech but the university does ask members of its community to respect a sense of decorum and civility in order that heated debate about important and pressing issues may obtain.
He also said the quotes in the display were "not suitable for young children" or those who have "strong personal convictions that may originate from religious, spiritual or ethnic roots." (Newly admitted students and their families were on campus that week.)
FIRE said it's writing to the administration about its "think of the children" rationale for the censorship, which is "never compelling, rarely coherent, and almost universally an excuse for censoring unpopular expression":
A policy against "hate speech" and "vulgar language," neither of which are categories of speech unprotected by the First Amendment, was used to silence students' criticism of the very words used against them. This should serve as a reminder to all students that policies that many believe are meant to combat injustice could be used to perpetuate it.
The student behind the exhibit, Jordyn Haime, wrote an op-ed in The New Hampshire saying her entire point was to provoke a response. She said the administration had "prioritized recruitment over the safety of their own students":
Not only did they remove the quotes that were deemed "inappropriate," they removed the statistical data, facts, definitions and resources that we provided for students. This censorship strongly implies that the administration does not consider street harassment to be an important issue.

To counter the administration's arguments, I would say that offense is the appropriate response to the quotes on the wall. Our display contained real things that had been said to students on this campus, and yes, they were horrible. That fact should upset people and cause them to want to take action on the issue, like we did. … my intention was to spark dialogue on an important topic that has not been addressed on this campus, but the issue can never be mended or even discussed if it is hidden.

Sexual harassment is not a happy topic, but it is a topic that needs to be addressed so that we can fix it.
Read The New Hampshire story, FIRE's post and Haime's op-ed.
Like The College Fix on Facebook / Follow us on Twitter
IMAGES: Ashley Marinaccio/Flickr, Connie DiSanto/The New Hampshire