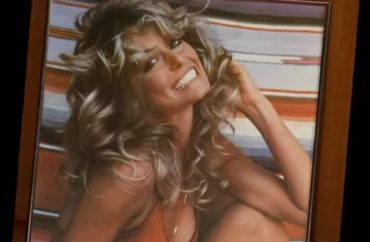 Does not require a 'pattern' of conduct that meets legal definition of harassment
Remember when visual representations of less-dressed women were relatively tame?
The most shocking thing about Farrah Fawcett's famous swimsuit poster from 1976, of course, was her identifiable yet covered nipples. It would barely register a raised eyebrow today.
Yet Morehead State University's sexual misconduct policy is so broad that the university could punish students who put up the iconic poster in their dorm rooms.
The policy earned the dubious distinction of Speech Code of the Month by the Foundation for Individual Rights in Education, which points to the examples of sexual harassment provided by Morehead State: "making sexual gestures," using "degrading words," and displaying "sexually suggestive objects or pictures, cartoons or posters."
Laura Beltz, senior program officer for policy reform, notes that nothing in the policy specifies that the cited examples must be part of a "larger pattern of conduct that does meet the legal standard for harassment." Instead, the university forces students to guess what the most easily offended administrator considers sexually suggestive or degrading, resulting in a concrete chilling of speech.
Forget the Farrah Fawcett poster for a second. Consider the well-known jerk-off gesture, which indicates the gesturer's impatience with or contempt for an ongoing conversation. Urban Dictionary has a pretty good definition, noting it's often accompanied by an eye roll.
While it mimics the act of male masturbation, the gesture is intended to express a nonsexual message. Yet it would easily be grounds for a sexual harassment investigation, were someone to report the gesture to an administrator. (Imagine getting through a pointless conversation with an inclusion bureaucrat without accidentally making the jerk-off gesture to another participant.)
"When speech is a part of harassment, it isn't constitutionally protected. But just because expression is sexual in nature, that doesn't mean it constitutes harassment," Beltz writes. She shares an even more suggestive example of a common dorm poster:
When I was in college, it seemed like half of the dorm rooms on campus had a particular Pink Floyd poster on display, which showed several naked women with the band's album covers painted on their backs (and backsides). It wasn't a unique poster choice, but displaying it is generally constitutionally protected. Under Morehead State's policy, however, this could be seen as "sexually suggestive" and would be punishable as sexual harassment.
And she has an even more plausible scenario under which a student could get punished under this overbroad policy, citing previous incidents:
The Pink Floyd poster may not draw the ire of an administrator, but what if a student puts up a subjectively suggestive poster that expresses a particularly controversial political opinion, and then a Snapchat image of that poster goes viral? In those sorts of situations, administrators may be tempted to dig up this broad policy and apply it to punish that student, especially if an online mob is demanding action.
The result is that students may think putting up subjectively suggestive or degrading posters is a punishable offense, and thus "shy away from anything potentially controversial, ultimately preventing the campus from becoming the marketplace of ideas it should serve as."
Morehead State can ditch its bottom-scraping speech-code rating from FIRE by modifying the sexual harassment policy to clarify that any "individual example" must be "part of a pattern of conduct that constitutes harassment as legally defined to be punishable," Beltz says.
MORE: State law bans Morehead State from regulating private student speech
IMAGE: ABC News/YouTube
Like The College Fix on Facebook / Follow us on Twitter