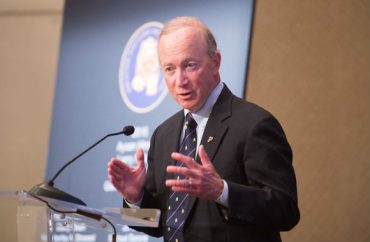 In-state tuition discount: 45 percent
When Purdue University bought for-profit "distance education" provider Kaplan in order to launch a distinct online university that takes no state funding, critics scoffed that it was raw deal for Indiana taxpayers.
Now that the acquisition is one step away from its last approval hurdle, Purdue has announced the name: Purdue University Global.
The public university cited "extensive qualitative and quantitative research" and input from its community, alumni and employers, and the old and new boards of trustees voted to approve the name:
"Our campuses are typically named after the physical locations where they hold classes. Purdue University Global can be accessed from anywhere in the world, at any time," said Purdue President Mitch Daniels. "The name proved appealing and meaningful to our various stakeholders – most importantly prospective students."
Indiana's higher ed regulator and the U.S. Department of Education both signed off on the acquisition and name months ago, and its regional accreditor, the Higher Learning Commission, is scheduled to make a decision by Feb. 22.
MORE: Lawyer who can't spell 'Purdue' savages its new online school
The new online university's board announced soon after its launch that state residents would get a deep tuition discount on associate's and bachelor's degrees – about 45 percent. Graduate degrees and certificates are less of a deal for state residents – 10 percent off.
But employees at its flagship and regional campuses who maintain a 3.0 GPA get free tuition at the online school. Purdue University Global targets "working adults."
The board approved a "statement of ethical principles" last month, including "Regular publication of performance metrics," "Access to financial counseling" and "24/7 desk help."
Students also have a three-week grace period to exit their classes with no lost tuition, only the application fee, a holdover from Kaplan.
A reminder to parents of college-bound children who want a campus experience: Purdue offers a widely attended free-speech orientation program for new students, and former governor Daniels has consistently kept tuition flat since taking over.
MORE: Mitch Daniels, champion of hard work, is 'the president the nation needs'
MORE: Purdue's free-speech orientation program could go national
IMAGE: James O'Gara Photography
Like The College Fix on Facebook / Follow us on Twitter