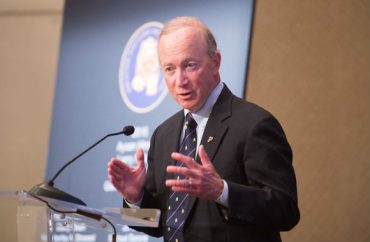 UPDATED
Indiana's Purdue University is making a strong play for best public university in the country, based on its demonstrated commitment to free speech.
And now it's getting interest in taking that approach to other schools, whose leaders may be tiring of giving in to student demands to censor and punish students, faculty and staff for their speech and nonthreatening behaviors.
The university submitted a proposal to NASPA (Student Affairs Administrators in Higher Education) to present the "methodology" for its "free speech orientation program" – the first of its kind in the nation – at an upcoming conference, and it was accepted, Director of Student Success Programs Dan Carpenter told the Foundation for Individual Rights in Education.
MORE: Purdue's Mitch Daniels is 'the president the nation needs'
FIRE has a big glowing profile on Purdue's first such orientation, which was created at the direction of President Mitch Daniels, the former Republican governor and longed-for presidential candidate:
Carpenter said NASPA was interested in a presentation featuring model methodologies for how universities can navigate the tricky process of teaching students to honor all of those values.
How did Purdue do it? By presenting scenarios that students are likely to encounter on campus so they are prepared to encounter diverse and conflicting ideas without freaking out, FIRE says.
More than 6,000 incoming students "voluntarily" attended the four-day orientation program that included the free-speech program, which included "a combination of skits inspired by real-life events at Purdue, a faculty panel discussion, and video clips."
MORE: Not hard to keep tuition flat & quality high, Daniels says
Those student-performed skits included "encountering an inflammatory campus preacher, dealing with objectionable symbols displayed in residence halls, handling an in-class disruption, and protesting an invited speaker."
Chief Legal Counsel Steven Schultz told FIRE that incoming students in "recent years" are missing a particular skill set:
For example, it doesn't appear that there's always a firm understanding of what the First Amendment requires. But then [the program aims to] also equip them to be able to respond with their own voice and use counter speech. Help them understand that it's OK to be offended and that there's a number of ways that they can respond as a member of the community.
Psychological Sciences Prof. Kip Williams, who helped design the program on a faculty task force, said he was driven by his experience with students who have "majority" views:
My own feeling was that too often, our reaction to people or groups whose opinions or actions are different from ours is to ban them or censor them or punish them or somehow drown out the speech rather than engaging in verbal communication with each other.
Task force chair Heather Servaty-Seib, a psychologist, argues that freedom of expression is intersectional with diversity and inclusion:
We absolutely do not see those things as antithetical to one another. We see them as completely tied to one another.
You can see the program for yourself here.
MORE: Private investors better for students than terrible loan system, Daniels says
CORRECTIONS: Two elements of the free-speech orientation program were described incorrectly in the original article. Purdue staff reached out to NASPA first by submitting a session proposal. About 6,000 students voluntarily attended the four-day orientation program, of which the free-speech program was one part. The article has been amended accordingly.
Like The College Fix on Facebook / Follow us on Twitter
IMAGE: James O'Gara Photography