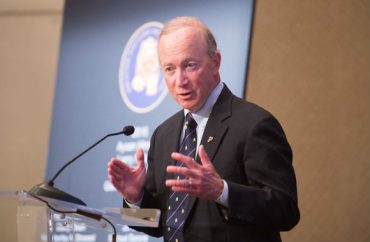 President Obama has hit on similar themes in his remarks to college students over the years, as in his exhortation to Howard University graduates last month not to "shut folks out" when you disagree with them.
But he also has a history of denigrating people's success, and his Howard commencement speech was no exception: Grads have "been lucky" and "God may have blessed them; it wasn't nothing you did."
Washington Post columnist George Will sees a thinly veiled rebuttal to Obama's line of thinking in Purdue University President Mitch Daniels' address to his own graduates a week after the Happenstancer in Chief's.
And four years after Daniels, the former governor of Indiana, turned down pleas from his fans to run for president, Will makes the case that Daniels' message to grads shows he is "the president the nation needs."
MORE: Not hard to keep tuition flat & quality high, Daniels says
Notice how different Daniels' message is from Obama's, per the Purdue transcript:
Scholars on the topic of human happiness have proven that the single strongest key to a satisfying, fulfilling life is "earned success," the kind that can come only from sustained effort, overcoming difficulties, dealing with setbacks [not just getting a diploma].

And yet, among many pernicious notions of our time, perhaps the most dangerous is the idea, sometimes implied and sometimes express, that life is more or less a lottery. That we are less masters of our fate than corks floating in a sea of luck. Or, even more absurd, that most of us are victims of some kind, and therefore in desperate need of others to protect us against a world of predators and against our own gullibility.
Daniels does not rule out the assists provided by "those parents, teachers, coaches, and others who nurtured" his graduating class, but emphasizes to grads: "Decisions you make, and effort you either do or don't put in, will either increase or reduce the chances that life's breaks break in your favor."
MORE: Private investors better for students than terrible loan system, Daniels says
He cites the words of Thomas Edison, Frederick Douglass and Samuel Goldwyn on the indispensability of hard work, and then shares a real-life story that could be a movie script (hint hint Steven Soderbergh):
A few years ago, an intriguing case came before the Indiana Supreme Court. A man who had trained and disciplined himself to count the cards at a blackjack table had been banned from Indiana casinos because he was winning too much. He hadn't cheated, and he wasn't just getting abnormally lucky. He was just winning by way of his hard work. The judges said the case pitted his right of access to a public space against the casinos' right to decide who came on their property.

The court decided for the casinos. I can't second-guess their reading of the law, but I admit I was rooting for the customer. All he had done was to tilt the odds in his favor, and he did it through his own effort, the kind Douglass called "honest, unremitting, and indefatigable."
Daniels' words magnify how the 2016 presidential race is "an echo, not a choice," Will says – two presumptive nominees who tell Americans their core identity is victims and the government will fix their bad luck/inequality.
There's always 2020 (hint hint President Daniels).
Read Will's column, Obama's remarks and Daniels' remarks.
MORE: The young conservative case for Mitch Daniels
Like The College Fix on Facebook / Follow us on Twitter
IMAGE: James O'Gara Photography