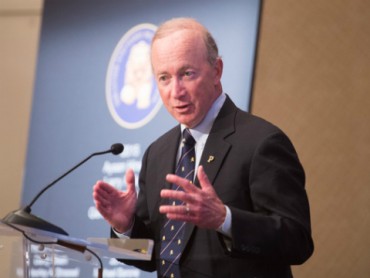 Higher ed is next for 'creative destruction'
WASHINGTON, D.C. – Purdue University is staking its reputation on the belief that keeping tuition flat will draw more students, rather than signal to their parents that the school's quality is failing.
That's the message President Mitch Daniels, the former Republican governor of Indiana and White House Office of Management and Budget director, brought to the Bradley Symposium on Wednesday.
The state of higher education is like a turtle getting attacked by "marauding snails": When the police officer shows up to take statements, the participants say "it all happened so fast," Daniels said to laughter. Universities are often "reactionary" and can't make adjustments fast enough even when they see challenges ahead, he said.
'Pass the pajamas test'
Just as economist Joseph Schumpeter's idea of "creative destruction" has leveled stodgy old industries, "there's every reason to believe that higher ed is next in the gunsights," Daniels said. New technology is "menacing this millennium-old model that we've been using."
Daniels said he's told his colleagues Purdue must "pass the pajamas test": convincing students why they should attend a residential university when high-profile entrepreneurs are encouraging students to get their educations from world-class professors in their living rooms.
Online learning is "clearly going to be the right answer for many students," especially those at different "points of life" than the average student, Daniels said.
Flat tuition looks bad
When Daniels took over Purdue in 2013, he made it a priority to halt 36 years of continuous tuition increases – a prospect he said made his admissions staff "very concerned." They thought it would signal "lack of confidence in our product."
Yet Purdue is now entering its fourth year with flat tuition, and it "turned out not to be too hard to do," Daniels said. Its room and board costs are going down and student debt has fallen by 18 percent in the past two years, he claimed.
Purdue had a record number of applications this year, and unlike many other schools, it largely "sat out the grade inflation phenmenon," he said.
Cost is largely why so many students are passing over their first-choice school in favor of their second or third, Daniels said. He tells parents of students considering Purdue that their children "will not move back into your basement" if they attend his school.
Plenty of STEM – perhaps too much
In a followup panel discussion, Daniels agreed that not all students should go to college. Some students have "many other options that haven't been sufficiently made plan to them," such as becoming a well-paid electrician. But the biggest problem remains "applicants who aren't ready" from high school when they arrive at Purdue, he said.
Regarding how to tweak courses to improve student learning, Daniels said that to Purdue's knowledge, "we have already modified more courses" in response to testing than any other school.
Daniels recommended a "hybrid" model as most effective: Students watching lectures on their own time and then professors leading a classroom experience with structured exercises to apply the lectures. There are some benefits of a residential education that are hard to replicate online, he said, such as the availability of undergraduate research and the organizational leadership experiences students have on campus.
Purdue has a "depressingly small percentage" of graduates who have taken core liberal arts classes like history, Daniels conceded when asked about liberal arts versus science, technology, engineering and math. He said it's the third-most STEM-centric university in the country.
Yet "you can't be a great engineer in today's world if you can't communicate effectively, if you don't have that body of understanding" provided by the liberal arts, Daniels said.
Also teaching history at Purdue, Daniels said he had many engineers in his class. They thought it was a "break" from their intensive engineering work, he said.
Greg Piper is an associate editor at The College Fix. (@GregPiper)
Like The College Fix on Facebook / Follow us on Twitter
IMAGE: James O'Gara Photography
Like The College Fix on Facebook / Follow us on Twitter