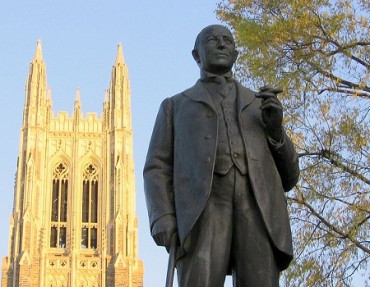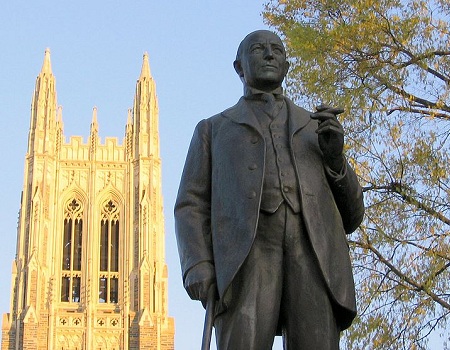 A minority group at Duke University is protesting a recent study by university researchers that found that black students take easier classes than white students.
The study has inflamed racial tensions on campus, but its authors say students are drawing the wrong conclusions.
The study is titled "What Happens After Enrollment? An Analysis of the Time Path of Racial Differences in GPA and Major Choice." Researchers discovered that black students were more likely than white students to switch to less difficult majors, and in turn, bridge the gap between their GPAs.
Although black and white students enter college with similar academic interests, 68 percent of black students eventually chose to study humanities and social sciences. According to the study, this is because "natural science, engineering, and economics courses are more difficult, associated with higher study times, and are more harshly graded than their humanities and social science counterparts."
This conclusion prompted silent protests from black students who were photographed holding signs that read, "my major is not easy," and, "it's not a Duke issue, it's a national issue."
The leaders of Duke's Black Student Alliance wrote a letter to the editor to the university's newspaper, The Chronicle. In the letter, they accused the University of ignoring "the frustrating racial climate" at Duke:
"We reiterate our respect for academic freedom, but believe that the University has an ethical obligation to address the perpetuated and serious implications of the study for the racial climate Duke."
Peter Arcidiacono, a Duke economics professor, was part of the three-person team that co-authored the study. Arcidiacono said he does not think people fully understand its implications.
"People have written that my study says black students are taking the easy way out and have a poor work ethic," he said. "The paper says nothing close to that."
Arcidiacono explained that while it is true that black students are much less likely to persist in certain majors, these differences disappear once the researchers distinguished students based on their academic background.
"What we were excited about is that there are no racial differences in behavior once preparation for Duke is taken into account," he said.
The study also argued that though elite universities are trying to increase the number of minority students in natural sciences and engineering through affirmative action, the policy is actually working against them.
Arcidiacono emphasized that if universities evaluated applicants as individuals rather than as groups, they could achieve the same results as a point system. He also said that affirmative action is more aggressive for black students than for other groups, in part because of the significant wealth gaps and poorer schooling as a result of discrimination.
These limitations lead to differences in academic background at selective universities.
"For example, whites at Duke have SAT scores 140 points higher than African Americans but 70 points higher than Hispanics," Arcidiacono said. "Absent affirmative action, most of both these gaps would disappear."
Many who oppose affirmative action policies at universities feel the same way.
Leon Drolet was the chairman of the 2006 Michigan Civil Rights Initiative, a ballot initiative in Michigan that successfully barred public institutions from granting preferential treatment to minorities with respect to college admissions and hiring decisions. Drolet agreed with Arcidiacono.
"A disproportionate number of African Americans grow up in bad school districts compared to Asians or whites," Drolet said in an interview. "A black person who has the same educational opportunities [as white or Asian students] in a decent school district can perform just as well."
As evidence, he cited graduation rates at elite universities, and said that dramatic minority dropout rates are a result of different standards for applications.
"The universities are so preoccupied with having an incoming student class look a certain way, that they didn't really seem to care what happened to them once they got into the university," he said.
Drolet went on to explain that banning affirmative action has had positive results in states like Michigan and California.
"When people think of banning affirmative action, they think of banning race preferences, but there can be forms of affirmative action that are perfectly appropriate," he said.
Drolet suggested socioeconomic affirmative action as one example.
"Perhaps we have a student who grew up in such a disadvantaged background that they had to raise their younger siblings or they had to overcome intense poverty and they still maintained pretty good grades. You could give that student consideration over someone else that had tutors and a very advantaged, top-level school district," he said.
Drolet explained that universities could consider the student who overcame obstacles to have shown "a better propensity to succeed in an academic environment" than students who did well because they had more resources.
Both Drolet and Arcidiacono agreed that affirmative action doesn't change whether or not minority students go to college: It changes where they go to college. And in states where affirmative action policies have been banned, students are more likely to attend universities where they were best prepared to succeed, regardless of ethnicity.
"One thing to keep in mind about African American Duke students is that they would have graduated from college with or without affirmative action," Arcidiacono said.
Fix Contributor Abigail Wilson is a senior at Benedictine College.
Like The College Fix on Facebook / Follow us on Twitter