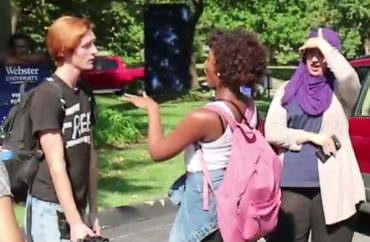 ST. LOUIS – Students at a suburban St. Louis university wanted to protest the acquittal of a former police officer who shot and killed a black man in 2011.
One of their classmates accused them of not caring about racism against non-black people outside of America, and managed to derail the entire protest.
The scene at Webster University Tuesday was one of many examples of volatile racial politics playing out at colleges in Missouri following a judge's Friday acquittal of Jason Stockley, a former St. Louis police officer, on murder charges.
Other confrontations were more fraught: State troopers dressed in riot gear faced off against bottle-throwing students at Saint Louis University, a Catholic institution that has previously honored anti-police protests.
Their march concluded back at the police headquarters where the protest, largely composed of college-age people, became a violent riot.
Manhunt for insufficiently woke president
Webster University students invited faculty and peers to walk out of class Tuesday afternoon.
Acting on their stated intention to "disrupt" campus but avoid vandalizing property, protesters blocked the intersection of Big Bend and Edgar Road near the heart of campus.
Webster Groves Police Capt. Stephen Spear declared the assembly "illegal" and gave protesters a two-minute ultimatum to disperse.
Well after the deadline passed, organizers redirected protesters to the University Center building, where nearly 300 participated in a minute-long "die-in" on the floor. The crowd appeared to be roughly representative of Webster's demographics: Just under 13 percent of students are black.
The protest became a manhunt in Loretto Hall, as students sought to confront President Beth Stroble in her office for her perceived indifference to racial equality in her messaging to campus just prior to the Stockley verdict.
'Racism is in more than just America, more than just black people'
After giving up the search, organizers opened a "safe space" for participants and media to ask questions.
One white student took the opportunity to question activist tactics and the geopolitics of the persecution of the Rohingya Muslims in Myanmar, which is still often referred to by its colonial name, Burma.
"Before I get super-shot down right now … what are you doing for the people in Burma right now, in Myanmar who are getting literally executed and exterminated" by the Buddhist-led government, freshman Brian Mongoven asked openly.
"Well, the same thing can be said for black people," an unidentified female responded before Mongoven interrupted her.
"If you want to acknowledge that racism is in more than just America, more than just black people — and I know racism is wrong, and it kills people," he said, with his voice breaking, "and it's disgusting, but what are you doing across the world?"
Mongoven continued, stumbling for words: "If this is international, if this is bigger than you… I'm so outraged right now, believe me."
Heckle him until he leaves
An unidentified white female protester, with anger rising in her voice, asked Mongoven what he suggested they do differently.
Mongoven said it was "a little counterintuitive" for the protesters to say "in the same breath that we should love each other and that we should fight."
In turn, she responded: "OK, but what's really counterintuitive is that you are trying to split the message here. Brown people die every day in this country."
Mongoven's next words led the skeptical crowd, which had given him a respectful distance, to advance toward him.
"White people die every day," he countered, prompting cries of disapproval. A finger-wagging black female student got in Mongoven's face.
"You're here for the wrong reasons, bro," said one man. "With most respect, we're gonna ask you to leave," another man told him.
"I'm sure people know about Myanmar and that is wrong too," a young woman in a headscarf told him, "but right now we're here and we need to focus on what's happening here."
The remaining crowd then heckled Mongoven until he left the scene. The Palestine-born Webster Journal reporter Sara Bannoura consoled him as the crowd continued heckling: "I'm totally with you."
Despite the organizers' best intentions, "I don't think this is activism," Mongoven told The College Fix shortly after the event: "We don't need more walks in the street. We need people, walking, rebuilding the streets."
'We are going to occupy this campus'
In St. Louis, Sunday evening, a march starting from the Metropolitan Police Department headquarters came upon Saint Louis University nearly two miles away.
State troopers in riot gear formed a line to prevent protesters from intruding onto the busier six-lane Forest Park Avenue.
Protesters also demanded entry into a gated entrance guarded by city police.
"We are going to occupy this campus because I fucking said so," a woman said into a public-address system. "I go here [to SLU], we are going here now because I do not consent to being fucking pussies."
Several SLU student protesters, who numbered a few dozen, were allowed entry.
Like The College Fix on Facebook / Follow us on Twitter