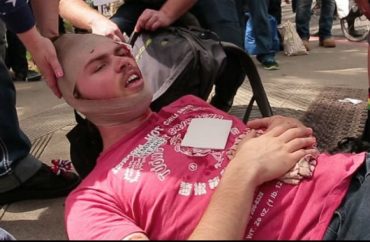 Masked protester clubbed Trump supporter with a bike lock
Has Eric Clanton been mistaken for a violent criminal?
The philosophy professor at Diablo Valley College, who is not teaching this term, found himself identified as an "anti-fascist" protester who assaulted a supporter of President Donald Trump at April 15's so-called Battle for Berkeley.
The altercation, captured on video, shows a protester in a face mask clubbing a young man with a U-shaped bike lock, leaving his head bleeding. The attacker immediately slips back into the crowd.
After internet sleuths purported to identify the attacker as Clanton, Diablo Valley's leaders faced a barrage of demands to fire the professor, whose digital profiles soon started shutting down.
Those leading the charge against Clanton have managed to dig up the professor's far-left political advocacy, but their only evidence he was the U-lock attacker is that his photos online resemble some physical features of the masked figure.
Many of the allegations about the incident are coming from a Twitter user who claims to be in contact with the victim of the clubbing, identified as Sean Stiles.
That person, who initially agreed to an interview with The College Fix, has thus far not responded to questions about his knowledge of the attack and its aftermath.
Not clear what police are investigating
A secretary for the Berkeley Police Department told The Fix last week she didn't have any information on Clanton and said she would refer the question to a sergeant and the public relations department. Neither has responded.
Though the student newspaper at San Francisco State University (SFSU), where Clanton got his master's degree, reported Sunday that Clanton was indeed under investigation, one of the officials it quoted gave The Fix a more nuanced statement.
Timothy Leong, director of communications for the Contra Costa Community College District, which includes DVC, said he couldn't confirm whether Clanton was under individual investigation.
"We have been in communication with Berkeley PD and they acknowledged receiving information about the alleged suspect the same way we have been receiving the information; via social media," Leong wrote in an email.
MORE: UC-Berkeley riot victim offers 'bounty' to ID attacker
All he knows is the police are investigating "the entire incident" around the Battle for Berkeley, he said.
SFSU had initially responded to the furor only by clarifying that Clanton was an alumnus, not a professor, an incorrect claim that spread quickly when Clanton was first named.
Mary Kenny, director of news at SFSU, told The Fix that Berkeley PD hasn't reached out to its own campus police, which "has not conducted or assisted in any investigation pertaining to Eric Clanton."
Looking for romantic partners that want 'REVOLUTION'
The U-lock attack took place at an Antifa event, dubbed The Patriots Rally, in Civic Center Park in Berkeley.
Internet users took to 4chan, the popular image-based bulletin board, to investigate and share their research on the attacker's identity. They purported to identify a mask-free Clanton in photos from the protest that day, and compared those to the outfit, backpack, facial structure and shoes of U-lock attacker.
4chan users also found Clanton's profile on the dating website OKCupid, where he wrote "I spend a lot of time thinking about REVOLUTION."
REPORT: Antifa "U-Lock" Attacker From Berkeley Identified as College Professor Eric Clanton https://t.co/nmJKSWI5l7 pic.twitter.com/deM1oeZj86

— Moshe (@DCMoshe) April 24, 2017
Eric Clanton okCupid profile: "I spend a lot of time thinking about REVOLUTION" https://t.co/aMZJuF9peN pic.twitter.com/Yv9PdeOc8S

— Jack Posobiec ?? (@JackPosobiec) April 20, 2017
A post on Reddit's section for Donald Trump fans joined the fray Thursday by posting several photos of Clanton in social situations, apparently taken from his social media and academic profiles.
Clanton did not respond to a Fix query. He removed his Twitter account sometime between April 6 and 20, according to an index of screenshots from Archive.is.
His faculty page at Diablo Valley has also changed since The Fix contacted the college for comment late Thursday.
An archived version of the page from Thursday, a day after Clanton was identified, includes what appears to be his on-campus extension and location of his office. By Friday, only his email address remained listed on Clanton's page, which said for the first time he is "not currently teaching."
It was taken down completely sometime Monday, judging by its last archived screenshot.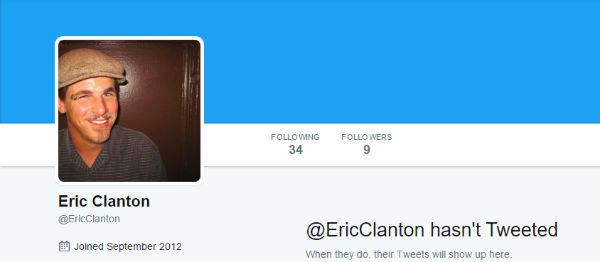 Coming back this summer
The page says Clanton has been at DVC since 2015, teaching introduction to philosophy. His research interests are ethics and politics, and he's "currently exploring restorative justice from an anti-authoritarian perspective."
The student newspaper The Inquirer reported that Clanton is scheduled to return to teaching on campus this summer. It quoted an email from interim President Ted Wieden that emphasized Clanton was an "adjunct" and "NOT currently teaching" at DVC.
A college spokesperson said the claims about Clanton were "based on an unsubstantiated allegation from unknown sources."
According to The Inquirer, 4chan users have also released Clanton's home address and "job locations."
MORE: Berkeley Republican recounts night of terror
In a staff editorial Thursday, The Inquirer said the college had been deluged with interview requests from "national news networks." The spokesperson said the president's office and her own had been "completely jammed to this controversy."
While it credited 4chan users with previously identifying and unmasking wrongdoers based on video evidence, the editorial said if Clanton isn't the masked figure, his reputation "has been tarnished without any due process" and he's been judged "guilty until proven innocent."
Neither Wieden nor his assistant has responded to queries from The Fix. Neither has the college's philosophy department. DVC does not have a listed public relations office.
'I don't trust Berkeley PD'
Many of the claims about the aftermath of the U-lock attack have come from Jack Posobiec, Washington bureau chief for The Rebel.
He claimed that the victim is named Sean Stiles and that he was "pressing charges" against Clanton.
A Facebook screenshot posted on Twitter purports to show Stiles, clad in the red Sriracha T-shirt and head bandage from the video, commenting on the attack. It includes a close-up of the scar on his head.
We found the victim. /pol/ is always right. pic.twitter.com/hJx5ciyxhV

— Red Pill⏳ (@RedPillDropper) April 20, 2017
The post does not publicly appear on the Facebook account for "Sean Stiles," whose owner does strongly resemble the victim in the video. He has yet to respond to a Fix query.
Posobiec later tweeted that an unnamed "source" told him Clanton attacked the person "but I haven't filed charges yet" because "I don't trust Berkeley PD."
That might be because the mayor of Berkeley, Jesse Arreguin, allegedly belongs to the militant activist group By Any Means Necessary, which has physically attacked those it considers racists. (An archived version of his Facebook page dated Friday shows Arreguin is in the BAMN "group," but his current page does not mention BAMN.)
Another anonymous post on 4chan from Saturday, citing "mutual friends who know his family," claims that Clanton has "lawyered up" in the event of his arrest.
Clanton has previously lectured on "anarchy tactics," according to a video posted by the Red Pill Twitter account, which appears to be affiliated with the 4chan section that purported to identify Clanton.
AnTiFa suspect Eric Clanton works for Diablo Valley College. pic.twitter.com/9PbzsIqePd

— Red Pill⏳ (@RedPillDropper) April 20, 2017
MORE: Demands grow to fire teacher who beat up white nationalist
Like The College Fix on Facebook / Follow us on Twitter
IMAGE: Shuttershot45/YouTube