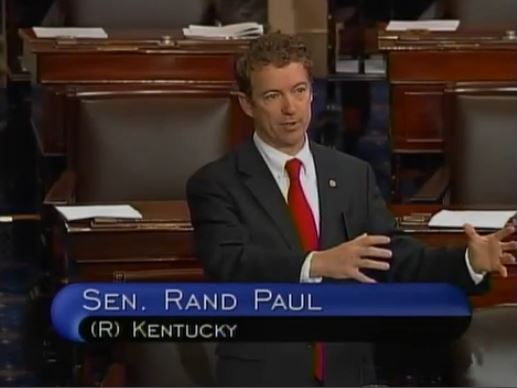 Sen. Rand Paul struggled to woo young people and minorities during his speech at the historically black Howard University on Wednesday morning. Nevertheless, a libertarian student group on the scene said many students signed up for its email list after the speech.
The Kentucky senator met with skepticism and confrontation from students in the audience. As he entreated his listeners to see that the Republican Party championed equality for blacks in the early days of abolition and emancipation, two Howard students ran to the front of the auditorium and hoisted a large white tarp with the words "Howard University does not support white supremacy" on it.
Brian Menifee, a senior mechanical engineering major at Howard and a member of the leftist campus group Political Education Action Committee, had pulled the sign from his backpack. As he and a companion were pulled away in a scuffle with campus police, Menifee could be heard saying, "Get the fuck off of me!" and "I stand up for my rights."
Paul emphasized his view that racism and segregation are abhorrent realities of the country's history. He also denied ever opposing the Civil Rights Act of 1964 when confronted during the question-and-answer session about the controversy he faced in 2010 for questioning Title II of that law, which prohibits private businesses from denying customers on the basis of race.
"What gets lost is that the Republican Party has always been the party of civil rights and voting rights," Paul said. "It is an uphill battle for me to convince you that we haven't changed, but that's part of me being here."
Other students at Howard conveyed their own doubts about Paul's olive branch.
Equilla Clark, a senior accounting major at Howard, learned of Paul's visit through an official campus-wide email but was not attending the speech.
"I was kind of turned off because it was a Republican," she told The College Fix.
"It wouldn't benefit me to go," she said. "If it was a Democratic senator coming here, probably more people would be talking about it."
Besides the protesters, at least one group at Howard on Wednesday came in support of Rand Paul's visit.
Four activists from the libertarian campus-based organization Young Americans for Liberty wore "I Stand with Rand" stickers and carried sign-up sheets for the group's email newsletter.
Paul, though a Republican, is an outspoken advocate of limited government and remains popular among libertarians.
Edward King, director of programs and operations for YAL, said, "Our goal was to go there and find people who agree with us philosophically."
YAL ended up filling 10 pages of email sign-ups. Howard students appear to make up 70-80 percent of the names, King said.
Julie Ershadi is a graduate of Bryn Mawr College
Click here to Like The College Fix on Facebook.  /  Twitter: @CollegeFix