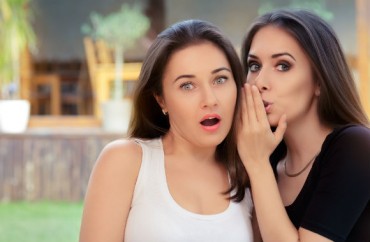 University judged him by a standard that didn't exist at the time
A month after a federal judge blocked Brown University from immediately removing him from campus, a male student filed an amended complaint against the school that laid out an elaborate revenge plot by the female who accused him of rape.
"Ann Roe" badmouthed plaintiff "John Doe" behind his back for months before publicly accusing him in front of their mock-trial team as he was running for a leadership spot, and then filed a formal complaint with the school, the amended May 31 suit claims.
An "all-female Title IX panel" judged Doe responsible for "manipulating" Roe into performing oral sex on him based on a policy that didn't exist when they had sexual contact, Doe argues.
He's asking for $75,000 or more in damages for Brown's breach of contract with him.
'Hit me up sometime if you're bored [winking smile] see ya!'
Though the legal core of Doe's suit is Brown's application of its 2015-2016 "affirmative consent" standard to the November 2014 incident, the narrative heart is Roe's alleged jealousy of Doe's feelings for "Kay Stiles," identified as "one of her best friends."
All three were on the mock trial team – Doe chose Brown specifically for its stellar program – and Doe had been "flirtatious" with multiple team women, the suit says.
Stiles apologized for acting "flirty" back to Doe after rebuffing him, and Doe and Roe learned from each other that both wanted to "hookup," according to the complaint. Roe said she wanted "PIV [penis in vagina]" because she hadn't seen her boyfriend in two months, and described "the best blowjob of your life" to Doe.
RELATED: Judge blocks Brown from expelling student it called a rapist, says he'll likely win lawsuit
Four days later they agreed to watch a movie together, but only after Doe said explicitly he wouldn't do so if they didn't have sex. Roe initiated oral sex on him and continued until he climaxed, despite getting up twice to turn off the motion-activated lights in the "storage room" where they coupled.
Roe continued to send Doe both sexually explicit and suggestive texts – "Hit me up sometime if you're bored [winking smile] see ya!" – but he lost interest, the suit claims. Doe confessed his feelings for Stiles when Roe told him he was driving her "completely insane" by acting aloof.
The amended complaint in the new Brown case, just filed today, is here:https://t.co/7G04lmjkwX

— KC Johnson (@kcjohnson9) May 31, 2016
'I felt I had no choice'
Roe told a completely different story about their tryst to Stiles – portraying Doe as pressuring her into sex – then signed up him for "online dating sites and began disparaging John to members of the mock trial team," the suit says.
Though Stiles convinced Roe that Doe had assaulted her, Roe told Doe that she'd try to help him get back into Stiles' good graces while continuing to "pursue" him for herself, according to the complaint.
RELATED: Amherst showed 'startling indifference' to the truth in 'blacked out' rape case, lawsuit says
Four months after their night in the storage room, Doe announced his run for the mock-trial executive board. Roe "promptly" told the team captain that Doe assaulted her and circulated a petition to have him removed from the team, costing Doe his co-captain position.
A week shy of a year after their sexual encounter, Roe filed a Title IX complaint against Doe, saying he took her to a "secluded room" and forced himself on her: "I felt I had no choice to avoid being raped, so submitted to this coercive badgering out of fear and gave him oral sex." Doe also said Roe had sexually harassed other women on the team, according to the suit.
"On information and belief," the complaint says, Roe and Stiles had met the prior week to discuss how to "get rid" of Doe by gathering "incriminating evidence" from other women on campus.
Witness said Roe told her 'We might hook up again'
Though some due-process lawsuits by students accused of sexual assault blame a biased investigator, Doe's suit against Brown portrays its hired investigator – featured in an NPR story – as unearthing much exculpatory evidence.
For example, attorney Djuna Perkins interviewed a friend of Roe's who said Roe told her about the sexual encounter that same night, making it sound "sexy and cool," according to the suit.
Though they didn't have intercourse, "it was really hot … we might hook up again, I don't know," Roe allegedly told her friend. The friend said it sounded like Roe "wished she and John had done more."
Brown used def of consent adopted 9/15 to judge incident that occurred on 11/14:
cc: @SamatFIRE pic.twitter.com/U5r3oisWhQ

— KC Johnson (@kcjohnson9) May 31, 2016
The sexual-assault investigation only went off the rails when the Title IX panel ignored the written pledges by Brown's associate general counsel and attorney Perkins that Doe would be judged under the 2014-2015 student conduct code, the suit says.
RELATED: African student expelled and deported for one minute of kissing
The panel ruled Doe had violated the current policy on "sexual violence" by manipulating Doe into sex. It said it had to use that policy because the previous year's student conduct code "does not explicitly define consent."
'Little to no male perspective' in adjudication
The suit accuses the Title IX office of ignoring Doe's complaint that Roe had herself violated the student conduct code when she appealed his two-year-suspension – by misrepresenting the code's provisions. It notes here that Roe was "a senior staff writer for the Brown Daily Herald."
Brown itself misstated the applicable code from 2014-2015, the suit claims, when it ruled that it could not review the panel's decision on the basis that it was "manifestly contrary to the evidence."
The suit concludes with a laundry list of ways that Brown has breached its contract with Doe.
The university's Title IX regime "encourages allegations of misconduct, offers accusers robust support and vigorously prosecutes complaints, while affording scant resources to the accused, little or no male perspective on adjudicatory panels, and no avenue for meaningful review of panel decisions."
RELATED: Amherst plays down damning text messages by rape accuser, responding to 'blacked out' student's suit
Like The College Fix on Facebook / Follow us on Twitter
IMAGE: Shutterstock