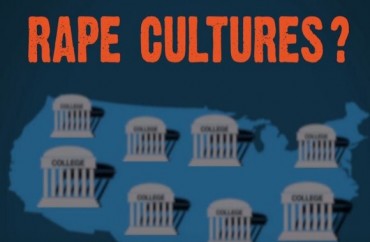 You don't get funding with the 1-in-50 statistic
"There is no rape culture in North America."
Thus begins a book by a self-described rape survivor who seeks to expose the "rape culture hysteria that is not based on evidence, statistics or reason."
Wendy McElroy released the first print edition of Rape Culture Hysteria: Fixing the Damage Done to Men and Women last month. It was published as an ebook in April.
Calling herself an individualist feminist, the anarchist and co-founder of The Voluntaryist is no stranger to controversy.
Just days before Rolling Stone published its now-debunked article on an alleged gang rape at the University of Virginia, McElroy debated the feminist Jessica Valenti at Brown University on "rape culture."
MORE: New evidence suggests 'Jackie' made up rapist 
The event prompted Brown President Christina Paxson to schedule a competing event so students could learn about the "facts" of sexual assault. Paxson sent a campuswide email letting everyone know she disagreed with McElroy, who says she was raped as a teenager.
McElroy leaves no stone unturned in her quest to debunk the myths surrounding today's debates on sexual assault, from the very idea of rape culture to particular manifestations such as the widely cited statistic that 1 in 5 women are raped in college.
Those who call attention to rape culture are promoting prejudice and bigotry, McElroy argues.
The idea is a "particularly vicious fiction because it brands half the human race – males, and especially white males – as rapists or rape facilitators," she says. "This slander would be denounced as hate speech if it were directed at any other class of human being, such as blacks, gays or women."
MORE: Female scholar critical of 'rape culture' prompts uproar at Brown
The tactics of "PC feminists" are derived from the "Big Lie" theory expounded by George Orwell in 1984, McElroy argues.
The Big Lie about rape culture contains all the crucial elements: brashness, sincerity and repetitiveness, and it plays off the emotional and justice-driven agenda of people, according to McElroy.
Proponents of the idea of rape culture stick with unsupportable statistics because it advances their agenda and sounds more horrifying than more reliable estimates, McElroy says: They "repeat the 1-in-4 or 1-in-5 statistic as a mantra because 1-in-50 is 10 times less effective in achieving their goals and maintaining funding."
Solutions moving forward
McElroy has some unconventional ideas for dealing with sexual assault on campus, borne of her libertarian roots.
She calls for abolishing the Department of Education and privatizing higher education, saying that free markets are "the most effective counter to bureaucracy." Doing so would free colleges from Title IX mandates, much like how Hillsdale College freed itself from affirmative action requirements by refusing federal student aid.
MORE: Mainstream media debunk '1-in-5' statistic
McElroy promotes more conventional ideas as well, encouraging schools to use law enforcement  for sexual assault cases, or at the very least model sexual assault investigations after traditional judicial proceedings.
At the Brown University debate with Valenti, McElroy urged victims of sexual assault to "go to the police."
"Rape is a criminal offense … It's not an infraction of college policy; maybe the police do a piss-poor job but they do a better job than bureaucrats, academics, many of whom are ideologically biased," McElroy told students, according to the Brown Daily Herald.

MORE: You aren't human if you want proof of 'rape culture'
Like The College Fix on Facebook / Follow us on Twitter
IMAGE: PragerU screenshot