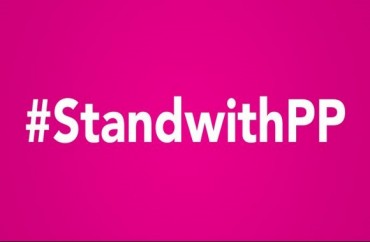 STUDENT: 'I'm pro-choice the same way that I'm pro hip replacement, pro appendectomy, and pro wisdom teeth removal'
ANN ARBOR – I spent a few hours talking to college students who took part in a recent "Stand With Planned Parenthood" event at the University of Michigan.
These are students who actively sought to sign "thank you" cards to Planned Parenthood and pose for pictures with placards declaring: #StandwithPP.
The event aimed to correct "misinformation" currently swirling about regarding Planned Parenthood, but it's unclear after talking to organizers and participants whether any facts were disseminated along with the pro-choice stickers, buttons, and free condoms doled out by Students For Choice, which hosted the demonstration.
The tabling rally in the center of campus took place one day after Planned
Parenthood President Cecile Richards' testimony before Congress confirmed, among other things, that the group's more than 600 clinics do not have a single mammogram machine and abortion is 86 percent of the organization's business, not the oft-bandied-about 3 percent figure.
But when I told many of the pro-choice students this information in conversations, (certainly very much in keeping with the stopping "misinformation" theme), their reactions ranged from denial to utter disinterest.
Take Andy, a student who told me abortion is akin to a dentist visit.
"It's basic healthcare," he said. "I'm pro-choice the same way that I'm pro hip replacement, pro appendectomy, and pro wisdom teeth removal."
As for as his support for Planned Parenthood, he argued they perform vital services.
"I think the STD screening, preventing unplanned pregnancies, are hugely important work. I don't think you can separate those from the other work they do," he said.
Asked his opinion on Richards' congressional testimony, specifically about Planned Parenthood's admission that they do not, and never have, provided mammograms, Andy appeared nonplussed.
"Like other organizations, they review out for various procedures," he said. "I trust Planned Parenthood. Their hearts are in the right place. And I think the people interrogating Cecile Richards for over five straight hours were trying to make a political point."
Perhaps even more disconcerting than Andy's response was that of Jake's, a student and one of the event's organizers. He was extremely reluctant to even admit the testimony took place.
But I pressed the point, saying, "The testimony did occur. Are you saying that it did not, that Cecile Richards was lying under oath?" He would only say that "Cecile Richards might have had her facts wrong. Just because she is the president of Planned Parenthood doesn't mean that she knows everything about the organization."
"But if this were true [about Planned Parenthood], hypothetically, it would be very concerning," he added. "[But] I'm here to empower women and to support women and their healthcare. I stand with Planned Parenthood."
Connie, another UMich student and an organizer for the Students For Choice event, explained her support for abortion by pointing out her mother had several forced abortions in China because of its one-child policy.
"I just think women should have a choice—whether to raise a child, abort, give it up for adoption. And those options should be safe," Connie said.
Asked for her reaction to Richards' testimony, Connie was somewhat
indignant, saying, "I'm not sure I want to offer my reaction because of how you might want to twist my words."
She added: "We [SFC and Planned Parenthood] have a lot of great resources for women."
In another interview, Tyree, one of the students who posed with the #StandwithPP banner, told me abortion is a "choice."
"Anyone should be able to get one if they want it," she said. "I don't think my personal opinion should decide if someone gets one or not."
Asked whether she separates what she believes about abortion from what she believes should be enacted politically, she merely reiterated what she said previously, that, "I would just want women to have the option be available."
I followed up: "So abortion restrictions are a no?"
"Yeah," she replied, laughing a little. "I know people in high school and they weren't at a point where they could have a child. It wouldn't have been good for either the mother or the baby. But I also know others who were fine with having the child; that's what they wanted. I just think the option should be there."
Tyree said she had no opinion on Richards' testimony before Congress, only saying in her defense that she "isn't super political."
Like The College Fix on Facebook / Follow us on Twitter