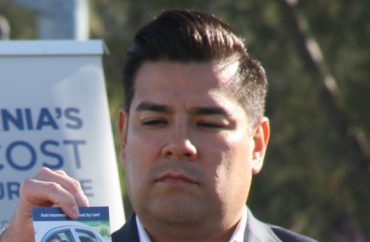 'Must remain vigilant' in next legislative session
Religious colleges in California are safe from state regulation of their religious practices, for now.
Following heavy opposition from a broad coalition of Christian, Jewish and Muslim college leaders, as well as legal scholars and others across the ideological spectrum, a state senator has promised to pull the most objectionable provision from his college antidiscrimination bill.
But religious leaders and advocacy groups are calling for continued vigilance in the next legislative session, when the loathed provision might make a return.
SB 1146 will leave "suspense" Thursday and be voted on by the Assembly Appropriations Committee, followed by full Senate consideration next week if approved Thursday, according to an earlier email update from Biola University, a leader in opposition to the bill.
An earlier version had already passed the Senate.
'Public shaming' provision intact
Democrat Ricardo Lara told the Los Angeles Times Wednesday he will amend SB 1146 to remove a provision that would open California religious colleges to litigation if they enforce lifestyle expectations that disfavor LGBT students, such as a prohibition on same-sex intimacy.
Transgender students could have sued if their colleges kept them out of housing, bathrooms or locker rooms reserved for the other biological sex. Married homosexual couples could have sued if schools kept them out of married student housing.
MORE: Muslim, Jewish, Christian college leaders blast SB 1146
Christianity Today reported that the original bill would have also prevented colleges receiving state financial aid from "teaching that marriage is between a man and woman."
With their continued exemption from California antidiscrimination laws, religious colleges can keep accepting students who use CalGrant state financial aid to attend, without risk of litigation.
The "public shaming" provision will remain in the bill, however: Colleges must disclose if they have an exemption and tell the state Commission on Student Aid when they expel students for violating lifestyle expectations.
#SB1146 is still bad, because it has the disclosure (public shaming) element, but this, for now, is good: https://t.co/xKVduhn4wq

— Andrew T. Walker (@andrewtwalk) August 10, 2016
Lara, who is gay, told the Times his goal was always "to shed the light on the appalling and unacceptable discrimination" against LGBT students at religious colleges, but he realized the total revocation of the exemption might have "unintended consequences."
As a gay Catholic man, nobody has the right to dictate how I worship or how I observe my religion. #SB1146 https://t.co/CjHuY0a5SH

— Ricardo Lara (@senricardolara) August 10, 2016
Theology Prof. Fred Sanders of Biola praised Lara's change of heart, though the lawmaker implied last week that colleges should simply stop discriminating if they don't want to be in his cross hairs.
Very encouraging to hear CA State Sen. Lara framing this as a religious liberty issue. #SB1146 https://t.co/IbQ9Sg35Zi

— Fred Sanders (@FredFredSanders) August 10, 2016
"If [private universities] don't discriminate, they have nothing to worry about." Rick Zbur @eqca #LGBT #SB1146 https://t.co/jMkK38EkAg

— Ricardo Lara (@senricardolara) August 5, 2016
Wary for next year
High-profile opponents' reactions ranged from content to wary, given Lara's stated intentions for next year.
The news was important enough to cause Russell Moore, the president of the Southern Baptist Convention's Ethics and Religious Liberty Commission, to write a few tweets before going back offline while he recovers from surgery. (The ERLC organized the big-tent opposition to the bill publicized this week.)
Glad to see the horrific #SB1146 targeting of religious schools dropped. Thanks to those of you who stood with us: https://t.co/dOBGvairxo

— Russell Moore (@drmoore) August 10, 2016
Southern Baptist Theological Seminary President Albert Mohler was more forward-looking.
The worst threat of California #SB1146 may yet return, and vigilance is required here, but we should be thankful for now.

— Albert Mohler (@albertmohler) August 10, 2016
Biola set aside its pugnacious opposition for a day to thank Lara for reconsidering.
Thank you @SenRicardoLara for preserving faith-based education. https://t.co/aX26IPZW4V

— Biola University (@biolau) August 10, 2016
Lara's amended wording in SB 1146 would "eliminate its most damaging parts, but those may well return in the next legislative session," said Senior Council Gregory Baylor of the Alliance Defending Freedom, a religious liberty law firm.
"Supporters of religious liberty, educational opportunity, and freedom of choice must remain vigilant and oppose any legislation that undermines these indispensable freedoms," he said.
MORE: California attacks 'pluralism' with anti-religion bill
Lawyer and National Review contributor David French, whose brief flirtation with a third-party presidential run put him on the national radar, wrote that Lara's backtracking shows what social conservatives can do when they organize.
"Never surrender. … Exercise your constitutional rights and apply political pressure to the same extent that leftist activists do," he wrote. "When the California bill was first proposed, I spoke to social conservatives who simply presumed total defeat."
Though college leaders are justifiably "breathing a sign of relief … the threat is hardly over," so California Christians should spend the next several months "building coalitions and signaling that resistance next year will be even more vigorous than this year," French said.
A racist attack in the guise of progressivism
Outrage from minority communities also may have convinced Lara to keep his powder dry and try again next year.
The Becket Fund for Religious Liberty, a public interest law firm, created a website last week (also in Spanish) accusing SB 1146 backers of discriminating against low-income black and Hispanic students.
Three out of four CalGrant recipients who would lose state money are minorities, it claims, and they would be forced to use that money at state schools that have "MUCH lower graduation rates."
The website features a series of videos with minority students explaining how the bill would harm them. The Becket Fund said more than 100,000 California voters signed its website petition opposing SB 1146.
The advocacy group also highlighted the Legislature's "fiscal analysis" of the bill last week, which warned there was a "fairly high" probability the state would get sued and spent "at least in the low hundreds of thousands of dollars" in court.
The state would also pay much more to enroll students in state schools who left private institutions because of the bill, the analysis said.
The Association of Independent California Colleges and University hammers home the importance of state aid for its members' students: Its website's "Quick Facts" claims 57 percent belong to a minority group.
The Times said half a dozen colleges formed a new group, the Association of Faith Based Institutions, and kicked in $350,000 to flood the districts of Appropriations Committee members with anti-SB 1146 mailers.
Association members told Lara after his announcement that "pending review" of his new language, they would "support" his bill.
MORE: Embrace transgender students or lose funding
Like The College Fix on Facebook / Follow us on Twitter
IMAGE: CA Department of Insurance