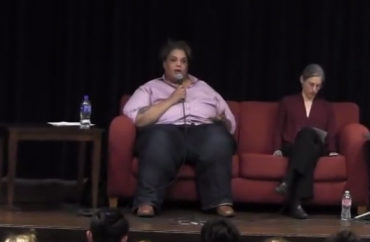 'Visibly uncomfortable and frustrated'
It was a well-rounded debate between two feminists from opposite sides of the #MeToo movement, plus a Title IX consultant.
Naturally, students hated it – and one panelist made obvious her disdain for having to listen to opposing views.
The Student Life reports that Thursday night's "Great Debate" at Pomona College, hosted by the student union, got low marks from students who were cheesed at having to listen to panelists who weren't "renowned feminist" and Purdue University Prof. Roxane Gay, most recently known for her body-image memoir Hunger.
They loathed both Northwestern University Prof. Laura Kipnis, whose essays and book on "sexual paranoia" have made her a villain to radical feminists, and Brett Sokolow, president of the Association of Title IX Administrators.
Gay was the least charitable member of the panel:
Gay appeared visibly uncomfortable and frustrated at various points during the discussion, and repeatedly sighed and rolled her eyes while the other panelists spoke.

"This event was a mess," she told TSL following the debate. Gay and many audience members expressed particular frustration and indignation with Kipnis' views. …

"People would laugh when [Kipnis] started speaking," Elle Biesemeyer SC '21 said. "[She] was saying all of this awful stuff about how she didn't believe women."
Gay said she wouldn't have agreed to appear if she'd known the event was a debate, and that she wished it had been stacked against Kipnis by featuring another speaker with a view similar to Gay's:
"I disagree so passionately with Kipnis' overall stance," she said. Kipnis' "honest opinions come from an intellectually dishonest place" and she "acts as if her audience comes from a place of ignorance … and wishful thinking," Gay added.

"A lot of us [in the audience] were here for Roxane and her perspective," Allie Pitchon PO '20 said. "We were frustrated that she had to debate things we found to be fundamental."
Kipnis was actually just laying out the default argument in favor of due process for accused people, and how it applies on college campuses, where she said Title IX investigations bear a strong resemblance to the literal "witch hunts" of the Puritan era.
She told students that sexual misconduct allegations often come from "consensual situations":
Kipnis said she felt opposition during the event, but is familiar with tough audiences.

"I think that it's difficult to convey the complexity of the situation … particularly where it seems like there's a narrative that is already in place," she told TSL. "One of the frustrations is, you're talking to a roomful of people who are certain they know the entirety of the situation and actually know a small part of the situation."
Title IX consultant Sokolow's view is already close to Gay's, though he's more concerned with the integrity of Title IX investigations:
"I wonder how we safeguard [#MeToo's] progress against probably what is a fairly small number of people who would weaponize it," Sokolow said to the audience. … "How do we make it a reality that the taint of allegation is not the same thing as the finding of violation?"

Rose Gelfand SC '21 said that Sokolow was "taking up a lot of space for the only man on the panel" and that he was "unnecessarily graphic" in his description of the Aziz Ansari story during the #MeToo section of the conversation.
Gay isn't the first prominent critic of due process for accused students to be noted for her dismissive behavior during a debate on the subject.
Stanford University Law Prof. Michele Dauber, who is leading a recall campaign against a judge for issuing a six-month sentence to a convicted Stanford rapist, was criticized for her "conspicuous eye-rolling and grimacing" on a Stanford panel with a lawyer who represents accused students.
MORE: Stanford opened Title IX inquiry against grad based on 8-year-old allegations
IMAGE: Pomona Student Union/YouTube
Like The College Fix on Facebook / Follow us on Twitter