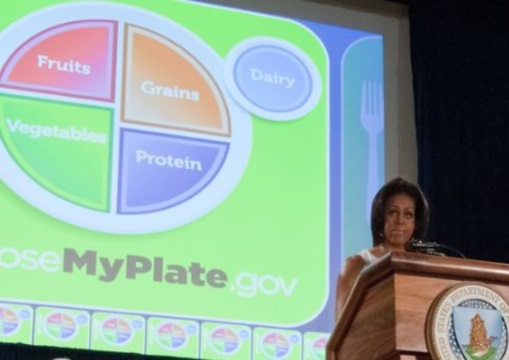 First Lady Michelle Obama graced the cover of Parade magazine on a recent Sunday, and in the corresponding cover story defended her federally waged war against childhood obesity and the dietary restrictions that go along with it, saying:
"Change is hard—it's as simple as that. You start making tweaks to something that has been a mainstay and you're going to get some backlash, particularly from kids. We as adults can't be shortsighted."
It's unclear whether that message has reached the trenches.
Kyle Olson of EAGnews.org reported Monday that "you know you've got an uprising on your hands when even the adults are complaining about the new healthy school lunches promoted by First Lady Michelle Obama."
Parents at last week's Harlan County school board meeting voiced their dissatisfaction with the new federal school lunch overhaul, complaining about the amount and quality of the new foods being offered.

"They say it tastes like vomit," board member Myra Mosley said at the meeting, according to the Harlan Daily Enterprise. She was obviously referring to feedback that parents are getting from students who actually eat the food.

School board members "directed their frustrations" at administrators. Director of School and Community Nutrition Jack Miniard pointed to the feds, saying new USDA regulations govern food choices and portion sizes.
Looks like even the grown ups can't stand the new menu.
Click here to Like The College Fix on Facebook  /  Twitter: @CollegeFix